We are Macmillan Library!
Are you a librarian? Awesome!
We are here to help.

THE DRY by Jane Harper
A January 2017 LibraryReads and Indie Next pick with THREE starred reviews! "Luke lied. You lied. Be at the funeral." This is the note Federal Agent Aaron Falk receives after hearing that his childhood best friend Luke has been found dead after committing a terrible crime in Jane Harper's first mystery. When Falk reluctantly returns to his hometown amid the worst drought in a century to see if there's more to Luke's death than there seems to be, a long-buried mystery from Falk's past resurfaces and he finds that small towns have always hidden big secrets. "A stunner… It's a small-town, big-secrets page-turner with a shocker of an ending… Recommend this one to fans of James Lee Burke and Robert Crais, who mix elements of 'bromance' into their hard-boiled tales." — Booklist, starred review
THE NOWHERE MAN by Gregg Hurwitz
Two starred reviews! In "bestseller Hurwitz's stellar sequel to 2016's ORPHAN X,"* Evan Smoak, a.k.a. "The Nowhere Man," is captured, drugged, and spirited off to a remote location, heavily guarded from all approaches. His captors think they have Evan trapped and helpless, but they don't realize that they've locked themselves in with one of the deadliest and most resourceful Orphans. "Evan's efforts to elude Van Sciver and company will keep readers on the edge of their seats, but it's Hurwitz's engaging, sympathetic characters who place this thriller above the pack." — *Publishers Weekly, starred review readmoreremove
So many galleys, so little time! Library Journal's Barbara Hoffert put together a guide for ALA Midwinter 2017, so you know just what to grab. Here are her top picks from the Macmillan booth #1818 (and don't forget to drop in during the United for Libraries (UFL) Spotlight on Adult Literature, Saturday, 1/21, from 2:00 to 4:00pm):
Spotlight giveaways (Saturday, 1/21, 2:00–4:00pm):
EDGAR AND LUCY by Victor Lodato
"The long-awaited follow-up to the PEN USA Award winner MATHILDA SAVITCH, featuring a boy more or less kidnapped from his feckless mother after the deaths of his father and grandmother."
MARLENA by Julie Buntin
"A high-profile debut whose teenage heroine is saved from loneliness in her new hometown by risk-taking young sophisticate Marlena."
NEVER LET YOU GO by Chevy Stevens
"Featuring a woman convinced that her abusive ex-husband, just out of jail, is stalking her."
THE NOWHERE MAN by Gregg Hurwitz
"Whose eponymous protagonist, trained in a shadowy black box orphan program aimed at creating assassins, is himself targeted by the head of the program."
THIS IS HOW IT ALWAYS IS by Laurie Frankel
"A big-news novel about a little boy who wants to be a girl and the parents who support him."
THE MOTHER'S PROMISE by Sally Hepworth
"The story of single mother Alice, diagnosed with a fatal disease, who is determined to find a backup family for her teenage daughter."
More hot fiction:
WALKAWAY by Cory Doctorow
"The multi-award-winning cyber-visionary's return to adult fiction after eight years, set in a futuristic dystopia where life's necessities can be printed out via computer but
the world is despoiled and dangerous."
LILLIAN BOXFISH TAKES A WALK by Kathleen Rooney
"85-year-old Lillian walks through Manhattan on New Year's Eve, 1984, offering a slowly unfolding view of the city and her own long life." readmoreremove
Baby, it's cold outside! Snuggle up with one of these romances to get your heart racing:
THE HERO by Donna Grant (Sons of Texas #1)
"Grant delivers an adrenaline-fueled combination of heat and heart in her stellar first Sons of Texas contemporary military romance. Grant grabs the reader by the throat early on with a plausible and suspenseful plot, characters readers will root for, and snappy prose, and she doesn't let up until the cliff-hanger ending. This first-class thrill ride will leave readers wanting more." — Publishers Weekly, starred review
NICO by Sarah Castille (Ruin & Revenge #1)
"In this super-sexy Romeo and Juliet for the 21st century, the first in the Ruin and Revenge romantic suspense series, Castille combines raw passion and barely leashed violence. She skillfully draws her hero and heroine and several in their close circles in intriguing and realistic shades of gray. This is a deftly plotted page-turner that will leave readers panting for the next installment." — Publishers Weekly readmoreremove
Oh what a lovely day for a #BookBday!
LOTUS by Lijia Zhang
This "compelling" (Publishers Weekly) debut novel follows a young Chinese woman as she defies her fate and escapes to the neon lights of Shenzhen and all it holds for her—be it love, danger, or destiny. "With expert pacing and description, Zhang vividly draws Lotus' present and past, weaving together time lines, characters, and subplots that eventually reveal Lotus to be far more than the sweet, reserved girl she appears to be. At once immersive and delicate, Zhang's writing takes Lotus to unexpected places as she searches for—and perhaps finds—what true freedom means." — Booklist
SILENCE by Shusaku Endo
This movie adaptation of Endo's classic novel of enduring faith in dangerous times, directed by Martin Scorsese and starring Andrew Garfield, Liam Neeson, and Adam Driver is "shaping up to be this year's THE REVENANT," according to the Washington Post. Picador created a special expanded discussion guide for SILENCE, so your library's book club can read and discuss before having a movie night out. readmoreremove
LILLIAN BOXFISH TAKES A WALK by Kathleen Rooney
Two starred reviews! "Inspired by Margaret Fishback, poet and Macy's ad-writing phenom of the 1930s, Rooney imagines an extraordinary walk through the streets of New York City on the last night of 1984, one that triggers a flood of memories for fictional ad woman Lillian Boxfish. Elegantly written, Rooney creates a glorious paean to a distant literary life and time—and an unabashed celebration of human connections that bridge the past and future." — Publishers Weekly, boxed & starred review
BEHIND HER EYES by Sarah Pinborough
A January 2017 LibraryReads pick! "Pinborough, an accomplished author of horror, mysteries, dark fantasy, and psychological suspense, has drawn on all her gifts to tell her latest story, a masterpiece of suspense centered on a bad marriage. Give this intense book to patrons freely, but especially target those who are fatigued with the current spate of female-driven psychological suspense. It will be enough to shake things up for them (it even has a hashtag campaign, #WTFThatEnding)."
— Booklist, starred review
4 3 2 1 by Paul Auster
One of Kirkus Reviews's Most Anticipated Books of 2017 with three starred reviews! "Auster's first novel in seven years is nothing if not ambitious: a four-part invention, more than 800 pages, that follows the life (or lives) of Archie Ferguson. With this novel, Auster reminds us that not just life, but also narrative is always conditional, that it only appears inevitable after the fact." — Kirkus Reviews, starred review readmoreremove
4 3 2 1 is Paul Auster's first novel in seven years and it is huge—literally! This bildungsroman follows Archibald Isaac Ferguson, born March 3, 1947 in Newark, NJ as his life splits into four different simultaneous parallel lives.
"Auster's first novel in seven years is nothing if not ambitious: a four-part invention, more than 800 pages, that follows the life (or lives) of Archie Ferguson. With this novel, Auster reminds us that not just life, but also narrative is always conditional, that it only appears inevitable after the fact." — Kirkus Reviews, starred review
"Auster has been turning readers' heads for three decades, bending the conventions of storytelling, blurring the line between fiction and autobiography, infusing novels with literary and cinematic allusions, and calling attention to the art of storytelling itself, not with cool, intellectual remove, but rather with wonder, gratitude, daring, and sly humor. He now presents his most capacious, demanding, eventful, suspenseful, erotic, structurally audacious, funny, and soulful novel to date. A paean to youth, desire, books, creativity, and unpredictability, it is a four-faceted bildungsroman and an Ars Poetica, in which Auster elucidates his devotion to literature and art. …[A] virtuoso, magnanimous, and ravishing opus."
— Booklist, starred & spotlight review
"Fusing the many-worlds interpretation of quantum mechanics with the bildungsroman literary genre, Auster illuminates how the discrete moments in one's life form the plot points of a sprawling narrative, rife with possibility."
— Library Journal, starred review
Click here to listen to an except from the audiobook readmoreremove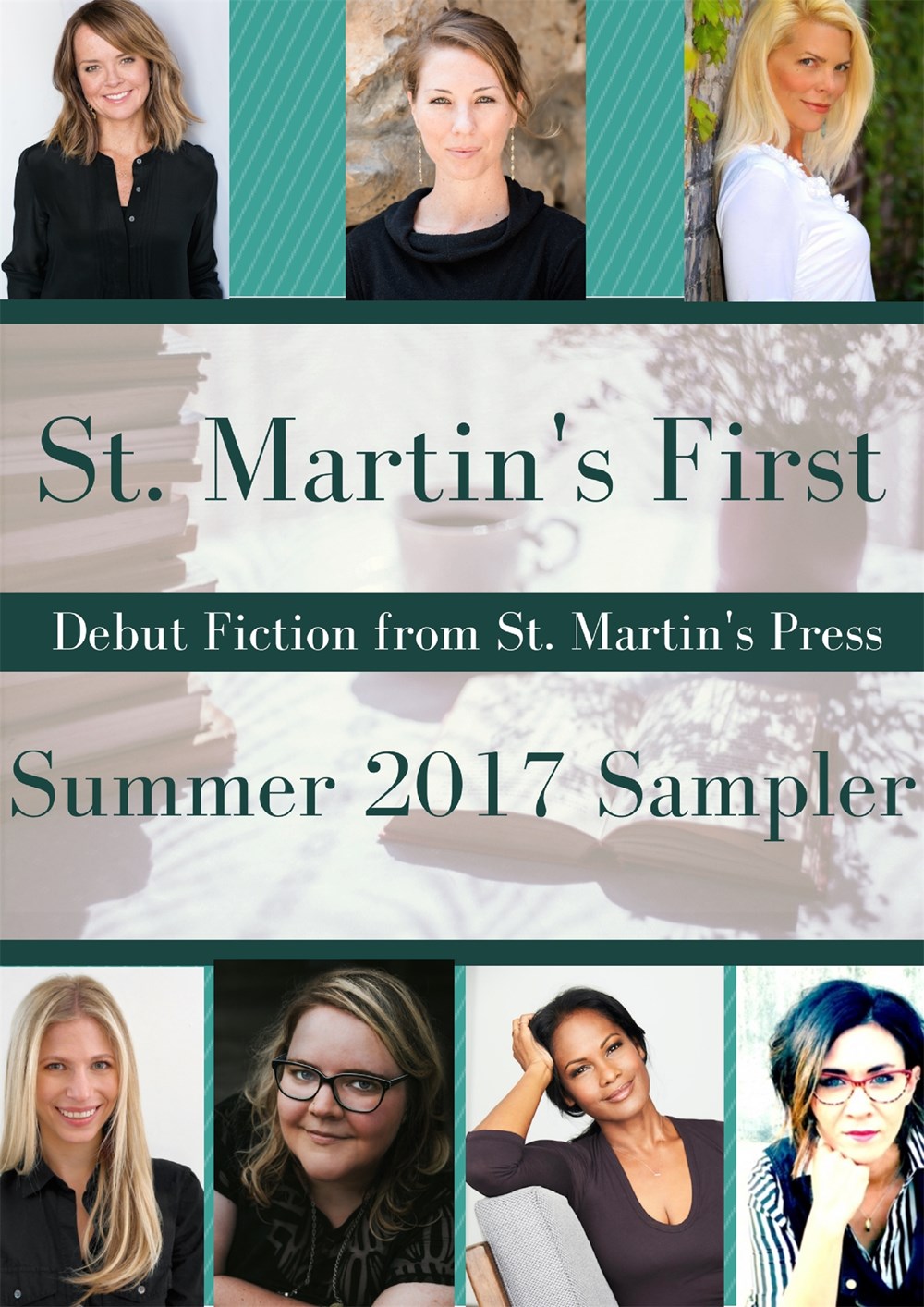 New Year, new talent! Download debut novel excerpts from the complimentary Spring/Summer 2017 St. Martin's First Sampler today!
With your help, St. Martin's Press has launched the careers of countless bestselling writers—Jonathan Tropper, Dan Brown, Augusten Burroughs, Louise Penny, and Lev Grossman were all first-time authors that St. Martin's Press nurtured to publication and were read and beloved by you. Help us do it again by downloading, reading, and sharing your love for the next group of authors before they become bestsellers!
Titles include:
THE BOOK OF SUMMER by Michelle Gable
SOME BRIGHT MORNING, I'LL FLY AWAY by Alice Anderson
THE ATLAS OF FORGOTTEN PLACES by Jenny D. Williams
THE WARDROBE MISTRESS by Meghan Masterson
THE IDEA OF YOU by Robinne Lee
THE LAST PLACE YOU LOOK by Kristen Lepionka
THE INEVITABLE COLLISION OF BIRDIE & BASH by Candace Ganger
ACCORDING TO A SOURCE by Abby Stern
STARS OVER CLEAR LAKE by Loretta Ellsworth
Happy Reading!
The Graywolf Press Spring 2017 catalog is here! Click here to see the forthcoming books that will be released from May through August 2017 (Edwidge Danticat! Percival Everett!).
Graywolf Press is a leading independent publisher committed to the discovery and energetic publication of contemporary American and international literature. They champion outstanding writers at all stages of their careers to ensure that diverse voices can be heard in a crowded marketplace. They believe books that nourish the individual spirit and enrich the broader culture must be supported by attentive editing, superior design, and creative promotion. For more information, visit www.graywolfpress.org.