We are Macmillan Library!
Are you a librarian? Awesome!
We are here to help.

From the moment Lucy met her husband's mother, Diana, she was kept at arm's length. Diana was exquisitely polite, and properly friendly, but Lucy knew that she was not what Diana envisioned. But who could fault Diana? She was a pillar of the community, an advocate for social justice who helped female refugees assimilate to their new country. Diana was happily married to Tom, and lived in wedded bliss for decades. Lucy wanted so much to please her new mother-in-law.
That was five years ago.
Last week's Maximum Shelf pick was Alex North's THE WHISPER MAN, the next creepy thriller from Celadon you won't want to miss!
Tom Kennedy and his young son Jake are having a tough time after the sudden death of their wife and mother. A fresh start will help heal. A new beginning, a new house, a new town. Featherbank.
But the town has a dark past. Fifteen years ago a serial killer abducted and murdered five residents. Until Frank Carter was finally caught, he was nicknamed "The Whisper Man," for he would lure his victims out by whispering at their window at night.
Of course, an old crime need not trouble Tom and Jake as they settle into their new home. Except that now a young boy has gone missing with a similar M.O. as The Whisper Man all those years ago, reigniting old rumors that he preyed with an accomplice. Detectives Amanda Beck and Pete Willis must find the boy before it is too late, even if that means Pete has to revisit his great foe in prison. The Whisper Man.
And then Jake begins acting strangely. He hears a whispering at his window…
"In the end, THE WHISPER MAN has all the hallmarks of a great murder-mystery thriller: suspense, the battle between good and evil, surprise twists and turns, fresh takes on classic detective characters and sympathetic civilians. But more than that, North offers nuance and questions about human agency. For all the darkness in this novel about serial killers and trauma, there is a sweet strain of filial love and creativity, and even a note of redemption."–Shelf Awareness
Happy Earth Day! Check out our new and essential books on everything from climate change to fracking:
LOSING EARTH: A Recent History by Nathaniel Rich
"Rich, a novelist (KING ZENO, 2018) and journalist, turns his widely discussed 2018 investigation for the New York Times Magazine into an exceedingly well-written history of the early political battles over addressing climate change… LOSING EARTH is eloquent, devastating, and crucial."–Booklist, starred review
THE SIXTH EXTINCTION: An Unnatural History by Elizabeth Kolbert
Winner of the Pulitzer Prize
"Throughout her extensive and passionately collected research, Kolbert offers a highly readable, enlightening report on the global and historical impact of humans… a highly significant eye-opener rich in facts and enjoyment."–Kirkus Reviews, starred review
AMITY AND PROSPERITY: One Family and the Fracturing of America by Eliza Griswold
Winner of the Pulitzer Prize
"An important addition to the emerging genre of works about fracking and its environmental and human costs. This will find large audiences among concerned citizens and warrants the attention of public officials as well as fans of J.D. Vance's HILLBILLY ELEGY."–Library Journal, starred review
Happy Friday, YA librarians!
We're back from TLA and our TBR piles are a mile high. If you're in a similar situation, I recommend you start with this #ownvoices YA love story from Stonewall Award winner Meredith Russo.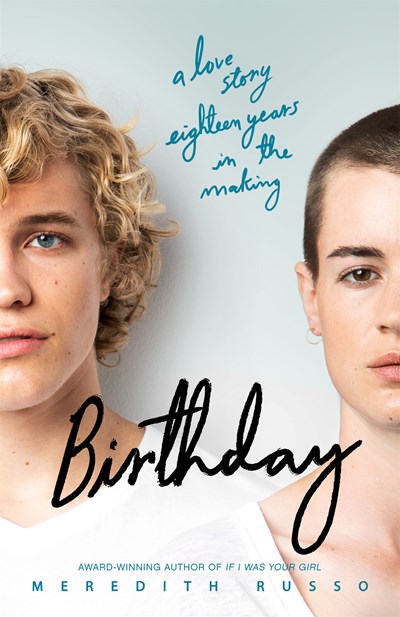 BIRTHDAY by Meredith Russo
9781250129833
Available May 21, 2019 from Flatiron Books YA
Ages 13 to 18
Eric and Morgan, born at the same time, in the same hospital, are inseparable. And every year on their shared birthday, we are treated to an inside view of their lives in that very moment. Year after year, the pair navigates who they are and how they fit into the world, both together and apart—as Eric deals with his abusive father and Morgan tries desperately to hide her true self from everyone . . . including Eric.
"Two very different memoirs within the same cover address memory, identity, history, and mortality from different perspectives… An incisive combination of literature that addresses the function of literature and memories that explore the meaning of memory."–Kirkus Reviews, starred review
"Sometimes lively and sensual, sometimes bleakly ruminative, Hemon's recollections unite his dazzling prose style with a captivating personal narrative."–Publishers Weekly, starred review
"The dynamics between Hemon's tribute to his parents…and his episodic coming-of-age memoir enhance the impact of each as his perspective widens, narrows, and widens again, allowing him to trace the ripple effects of traumatic loss and displacement. Here, too, are bracing candor, gruff tenderness, righteous anger, and political astuteness, all conveyed with Hemon's signature intensity, mordant wit, and creative bite."–Booklist, starred review
A LibraryReads Pick and a true crime investigation make up this week's Thriller Thursday celebration!
Two starred reviews!
April LibraryReads Pick + May Indie Next Pick!
A Library Journal Winter/Spring 2019 Best Debut!
"Intricate plotting and courtroom theatrics, combined with moving insight into parenting special needs children and the psychology of immigrants, make this book both a learning experience and a page-turner. Should be huge."–Kirkus Reviews, starred review
"With touches of mystery, legal thriller, and character-driven storytelling, where nothing is ever quite as it seems, Kim's promising debut will certainly have readers looking forward to her next offering."–Library Journal, starred review
"In this engrossing true crime account, McGough, the author of a memoir, BAT BOY, and a former legal consultant for TV's Law & Order, exposes a horrifying Los Angeles murder that was not solved for decades—and an even more disturbing LAPD cover-up… This memorable and powerful work deserves a wide readership."–Publishers Weekly, starred review
Conspiracy theories, immigration, and a call to arms–welcome to this week's nonfiction round-up!
"Quick to condemn racist, anti-Semitic, homophobic, and anti-Muslim bias, the author supports her writing with excellent supporting documentation. An engaging and valuable explication of one of the most confusing and complex topics in today's society."–Library Journal
Two starred reviews!
Check out more read-alikes from Booklist.
"In this caring and unforgettable borderland saga, Bobrow-Strain reveals the profound personal toll of the immigration crisis."–Booklist, starred review
In AMITY AND PROSPERITY, the prizewinning poet and journalist Eliza Griswold tells the story of the energy boom's impact on a small town at the edge of Appalachia and one woman's transformation from a struggling single parent to an unlikely activist.
NYT Notable Book of 2018
NYT Critics' Top Book of 2018
"An important addition to the emerging genre of works about fracking and its environmental and human costs. This will find large audiences among concerned citizens and warrants the attention of public officials as well as fans of J.D. Vance's HILLBILLY ELEGY."–Library Journal, starred review
"Griswold's empathetic yet analytical account of Haney's indefatigable role as advocate for justice is a thorough and thoroughly blood-pressure-raising account of the greed and fraud embedded in the environmentally ruinous natural-gas industry. As honest and unvarnished an account of the human cost of corporate corruption as one will find."–Booklist, starred review
Heather Morris' debut novel THE TATTOOIST OF AUSCHWITZ was an immediate smash hit, skyrocketing to the top of bestseller lists across the country and spending 26 weeks at the #1 spot on the New York Times bestseller list (and still going strong).
We are so excited to be publishing Morris' follow-up, CILKA'S JOURNEY, this October.
Cilka first appeared in THE TATTOOIST OF AUSCHWITZ as the beautiful sixteen-year-old singled out by the camp Commandant. Readers have been clamoring for Cilka's story, so make sure you leave plenty of room on your shelves for this one!
CILKA'S JOURNEY goes on sale October 1, 2019 from St. Martin's Press.
On this #pubday, we celebrate time travel–to a 19th century French vineyard, to breaking codes in Asia post-WII, to the beginnings of American Libertarianism or through objects themselves…
"Lovely literary fiction for not only fans of Tilghman's previous work but for anyone interested in that age-old question, What is true love?"–Library Journal
"The idiosyncratic, independent life and work of Rose Wilder Lane—Laura Ingalls Wilder's conservative daughter—gets its due in this spiky graphic biography by Bagge… This loopy, frantic, and personality-packed tribute is fitting for one of America's lesser-known gonzo feminist writers."–Publishers Weekly