Articles tagged
"Liz Stavrinides"
Calling all dog lovers! We have a discussion guide just for you (and the young folks in your life)!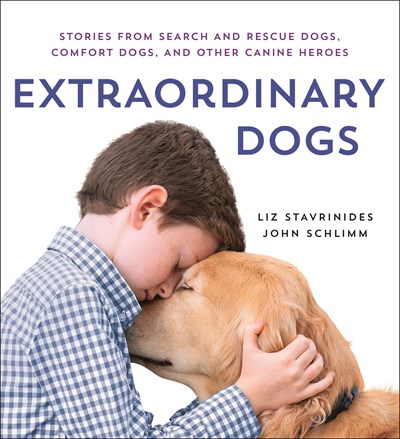 EXTRAORDINARY DOGS: Stories from Search and Rescue Dogs, Comfort Dogs, and Other Canine Heroes by Liz Stavrinides and John Schlimm is a beautiful photo book showcasing more than 50 heroic dogs, along with the police officers, firefighters, veterans, and other trained volunteer handlers who serve side-by-side with them.
This downloadable discussion guide will allow you—as a teacher, librarian, or parent—to actively engage and inspire children and young adults across multiple academic subjects and curriculums with the stories shared throughout the book.
readmoreremove
Who can resist a roundup of books featuring cute and courageous canines?
MIRACLE DOGS by Liz Stavrinides
Professional pet photographer and volunteer for animal rescues, Stavrinides combines her passions in this heartwarming collection of stories and full-color portraits of 50 amazing dogs and their loving owners, including celebrities like Hoda Kotb. "Even cat-lovers will have a hard time holding back when they take a look at actor Chevy Chase's lab Chris, grinning with eyes closed. It's an aw-shucks collection sure to inspire a trip to the local shelter." — Publishers Weekly
WAR DOGS: Tales of Canine Heroism, History, and Love by Rebecca Frankel
Frankel offers a riveting mix of on-the-ground reporting, her own hands-on experiences in the military working dog world, and a look at the science of dogs' special abilities—from their amazing noses and powerful jaws to their enormous sensitivity to the emotions of their human companions. "Her passion for her subject matter and deep appreciation for the dogs is heartwarming and inspiring throughout. Military aficionados as well as dog lovers will learn from and enjoy from this study of canine commandos and the service people who count on them." — Publishers Weekly
NAVY SEAL DOGS: My Tale of Training Canines for Combat by Michael Ritland
This YA adaptation available in trade paperback in January 2015 tells the true story of how Ritland grew from a skinny, bullied child, to a member of our nation's most elite SEAL Teams, and found his passion training the world's most highly skilled working K9 warriors. "Special force SEALS are elite enough, but SEAL dogs are a breed apart. About time these heroes got the attention they deserved for a young audience." — Kirkus Reviews