Come one, come all to Books for Teens 2017!
By Anne Spieth
Jul 26 ,2016

It's September 1st, and of course we're thinking about going back to school. We've got a new backpack, a binder full of college ruled and hole-punched paper, lots of multi-colored gel pens, our daily planner covered in stickers, and most importantly, we've got SEVERAL books to read on the bus to and from school all year long.
Lucky for you, we've created not one, but TWO posters of our favorite reads for Fall 2016 and 2017! Download and print your copies (11×17 tabloid size) of BFT poster 1 & BFT poster 2, or email us for a physical copy (don't forget to include your mailing address).
Then, make sure that you're pre-approved on Edelweiss to download all of our available e-galleys, including many of the titles mentioned below. Click here to find out how to be whitelisted.
You can also view our Edelweiss collection of Books for Teens 2017 titles here.
Now on to the books!
I HATE EVERYONE BUT YOU by Gaby Dunn & Allison Raskin
Available September 5, 2017
Ages 14 to 19
Ava and Gen are two best friends heading off to their first semesters of college on opposite sides of the country. From first loves to weird roommates, heartbreak, self-discovery, coming out and mental health, the two document every moment in a series of texts and emails to each other. But as each changes and grows into her new life, will their friendship be able to survive the distance?
CARAVAL by Stephanie Garber
Ages 13 to 18
After years of wishing, Scarlett and little sister, Tella, finally attend Caraval, the legendary, once-a-year performance where the audience participates in the show. However, Tella is kidnapped by Caraval's mastermind organizer, Legend, and the first person to find her wins the game. Scarlett has been told that everything that happens during Caraval is an elaborate performance, but whether it's real or not, she must find Tella before the five nights of the game are over, otherwise her sister disappears forever. "[A] magnificent debut novel… Intriguing characters, an imaginative setting, and evocative writing combine to create a spellbinding tale of love, loss, sacrifice, and hope." — Publishers Weekly, starred review  
THE MEMORY OF THINGS by Gae Polisner
Ages 12 to 18
A powerful novel about two teenagers finding friendship, comfort, and first love in the days immediately following 9/11 as their fractured city tries to put itself back together. "A touching look at the power of selflessness, memory, and hope in the face of tragedy." — Booklist
THE POSSIBILITY OF SOMEWHERE by Julia Day
Ages 12 to 18
Ash Gupta is admired by his peers, enjoying his last year of classes and getting the kind of grades that his wealthy, immigrant parents expect. Eden Moore is the unpopular, sharp-tongued girl from the trailer park most likely to become class valedictorian. What can the future hold for two passionate souls from totally different worlds? "This is an engaging read. The narrative takes place during one semester of school, and it's full of drama, struggles with money and grades, family turmoil, and identity issues."
— School Library Journal
WAR DOGS: Tales of Canine Heroism, History, and Love by Rebecca Frankel
Ages 12 to 18
In this special edition adapted specifically for a younger audience, Frankel gives further insight into her work as a journalist and how it led her to explore the important role that dogs and their handlers/soldiers have played in America's most recent military conflicts. "A solid choice for those who love dogs and are interested in all things military." — School Library Journal
THE BOY WHO KILLED GRANT PARKER by Kat Spears
Ages 13 to 18
From the author of the YALSA 2015 Best Fiction for Young Adults pick, SWAY, comes a high stakes contemporary story of a city teen who moves to a small town and finds himself head to head with the local bully.
BREAKAWAY by Kat Spears (ages 14-18) is now available in trade paperback.
THE ARAB OF THE FUTURE 2: A Childhood in the Middle East, 1984-1985: A Graphic Memoir by Riad Sattouf
THREE starred reviews! "In the second volume of an acclaimed five-part graphic memoir, originally published in France, cartoonist Sattouf captures the discomfiting and occasionally humorous details of his first year in school in a Syria that is casually anti-Semitic and not particularly kind to anyone." — Publishers Weekly, starred review
THE DEAD BOYFRIEND by R.L. Stine (Fear Street series #5)
Ages 12 to 18
Colin is Caitlin's first real boyfriend, so when she sees Colin with another girl, Caitlin completely loses it. When she comes back to her senses, she realizes that Colin is dead. But if Colin is dead, how is he staring at her across a crowded party?
GIVE ME A K-I-L-L by R.L. Stine (Fear Street series #6)
Available April 4, 2017
Ages 14 to 18
Heather Wyatt just transferred from her old school, where she was a cheerleading star, and is eager to join the squad at Shadyside High. There's only one other girl who stands in her way—rich, spoiled Devra Dalby, who is also trying out for the one open slot. The competition is anything but friendly—and it ends in murder.
FEAR STREET SUPER THRILLER: SECRETS: THE LOST GIRL & CAN YOU KEEP A SECRET by R.L. Stine (ages 12-18) is now available in trade paperback.
FEAR STREET SUPER THRILLERS: NIGHTMARES by R.L. Stine (ages 12-18) will be available in trade paperback on August 1, 2017.
WHEN THE MOON WAS OURS by Anna-Marie McLemore
Ages 12 to 18
Longlisted for the 2016 National Book Award for Young People's Literature and three starred reviews! From Morris Award finalist Anna-Marie McLemore comes a second stunning novel tinged with magic, about a girl with roses that grow from her wrist who happens to be hiding the truth, a boy with past secrets who paints moons and hangs them in trees, and four sisters rumored to be witches, who could ruin them both. "With luminous prose infused with Latino folklore and magical realism, this mixes fairy-tale ingredients with the elegance of a love story, with all of it rooted in a deeply real sense of humanity. Lovely, necessary, and true."
— Booklist, starred review 
THE WEIGHT OF FEATHERS by Anna-Marie McLemore (ages 14-18) will be available in trade paperback on September 26, 2017.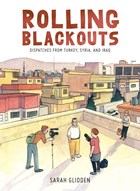 ROLLING BLACKOUTS: Dispatches from Turkey, Syria, and Iraq by Sarah Glidden
In this graphic novel, cartoonist Glidden details her two-month long journey through Turkey, Iraq, and Syria as she accompanies two reporters while they research stories on the Iraq War's effect on the Middle East and, specifically, the war's refugees. "Glidden's understated, face-focused illustration style gets under your skin—by removing her own personality from the writing, the author sucks readers in so deeply that you really feel present, seeing her journey through her eyes."
— Library Journal, starred review
SHIRLEY JACKSON'S "THE LOTTERY": The Authorized Graphic Adaptation by Miles Hyman
available simultaneously in trade paperback
Two starred reviews! Published in time for Jackson's centennial, this graphic adaptation masterfully reimagines her iconic story with a striking visual narrative created by her grandson, Miles Hyman. "A stunning graphic adaptation of a chilling classic." — Kirkus Reviews, starred review
MOON CHOSEN by P.C. Cast
Ages 12 to 18
#1 New York Times bestselling author, P.C. Cast, returns with a new epic fantasy! Mari is an Earth Walker, heir to the unique healing powers of her Clan; but she has cast her duties aside, until she is chosen by a special animal ally, altering her destiny forever. When a deadly attack tears her world apart, Mari reveals the strength of her powers and the forbidden secret of her dual nature as she embarks on a mission to save her people. "While many fantasy series style themselves as epic, this one may actually be worthy of the description. Fantasy lovers who are fans of Cinda Williams Chima's 'Seven Realms' novels will fall in love with Mari and Nik." — School Library Journal
MIDNIGHT HOUR by C.C. Hunter (Shadow Falls series)
Ages 12 to 18
In the conclusion to the New York Times bestselling Shadow Falls saga, Miranda Kane is preparing to graduate when a near-death experience threatens to ruin it all.
MY TRUE LOVE GAVE TO ME: Twelve Holiday Stories, edited by Stephanie Perkins (which received 4 starred reviews!!! Ages 13-18) is now available in trade paperback.
HOW TO KEEP A BOY FROM KISSING YOU by Tara Eglington
Ages 12 to 18
Aurora Skye is sweet sixteen and never been kissed—and that's the way she wants it to be. But when she's cast in her high school's production of Much Ado about Nothing, she must avoid having her first kiss with Hayden Paris, her co-star, next door neighbor, and the bane of her existence. OR IS HE? "Eglington celebrates female friendship and loyalty, too, and Aurora's sunny outlook will satisfy readers looking for a romantic comedy with a dash of Shakespeare." — Publishers Weekly
THE BEST POSSIBLE ANSWER by E. Katherine Kottaras
Ages 12 to 17
A contemporary YA novel about ultra-high-achiever Viviana Rabinovich-Lowe, whose quest for perfection comes to a screeching halt when her boyfriend leaks racy pictures of her to the entire school. Making matters worse, her parents are getting divorced. Through it all, Viv learns something they never covered in her AP courses: that loving yourself is more important than trying to be perfect. "A sensitive novel about accepting imperfection." — Kirkus Reviews
WE ARE STILL TORNADOES by Michael Kun & Susan Mullen
Ages 12 to 18
In this debut romance set in 1982, best friends Scott and Cath remain pen pals throughout their freshman year of college. That is, until they start to realize that maybe friends is not all they are to each other…but can they make a relationship work off the page and in real life? "Readers aching for a combination of the '80s and a romance like Rainbow Rowell's ELEANOR & PARK will be stoked to find this wicked, gnarly, and totally righteous novel." — Booklist
THE INFINITY OF YOU & ME by J.Q. Coyle
Ages 12 to 18
What if every life-altering choice you made could split your world into infinite worlds? Almost fifteen, Alicia is smart and funny—and hallucinates different worlds. In one particularly vivid hallucination, she's drawn to a boy her own age named Jax. It's up to Alicia to find out why they are bound together by a strange past and intertwining present. "The clever, fast-moving plot features a strong, appealing heroine, Sylvia Plath's poetry, romance, betrayal, and heart-stopping suspense. Science-fiction fans will say 'You had me at "multiverse," ' while those seeking an alternative to near-future dystopias will find plenty to entertain them here." — Kirkus Reviews
FREEKS by Amanda Hocking
Ages 12 to 18
Welcome to Gideon Davorin's Traveling Carnival, where necromancy, magical visions, and pyrokinesis are more than just part of the act in bestselling author Hocking's first standalone YA romance. "This fun paranormal romance, wrapped up in a circus-tent setting, is recommended where the genre and the author's books are popular. Hand to fans of Twilight and MTV's Teen Wolf." — School Library Journal
THE RADIUS OF US by Marie Marquardt
Ages 13 to 19
From the author of the YALSA 2016 Quick Picks for Reluctant Readers nominee, DREAM THINGS TRUE, comes a powerful story told in alternating viewpoints of two young people struggling to overcome trauma and find healing in love. "While the teens' relationship is tested when details from Phoenix's past coincide with Gretchen's case, a host of diverse characters lend a hand and offer varying perspectives. [An] …eye-opening story. " — Kirkus Reviews
WINTERSONG by S. Jae-Jones
Ages 12 to 18
Set at the turn of the 19th century, this richly imagined debut coming-of-age story spins a spellbinding tale perfect for fans of Labyrinth and THE DARKEST PART OF THE FOREST as a young woman searches for her sister who was kidnapped by the Goblin King. "There are plenty of nods to Labyrinth, but atmospherically, this first novel is most similar to another debut: Robin McKinley's BEAUTY. …this is an exquisitely and lyrically crafted tale of longing, sibling loyalty, and the importance of women in a time when women were so often overlooked. Eerie, unsettling, and, above all, full of music." — Booklist, starred review
WONDERFUL FEELS LIKE THIS by Sara Lövestam
Ages 12 to 18
Two starred reviews! THE ELEGANCE OF THE HEDGEHOG meets THE PERKS OF BEING A WALLFLOWER in this novel about a bullied teenager and an old man in a retirement home who bond over their mutual love of jazz music. "Sensitive and deeply moving: outstanding." — Kirkus Reviews, starred review
A CROWN OF WISHES by Roshani Chokshi
Ages 13 to 18
In this second beautiful, lush fantasy from New York Times bestselling author Chokshi, Gauri, the princess of Bharata, must team up with her enemy kingdom's prince Vikram to win the Tournament of Wishes—a competition held in a mythical city where the Lord of Wealth promises a wish to the victor. "Careful plotting, multiple viewpoints, high-stakes action, and a slow-burn relationship make this heady fantasy completely engrossing. A first pick for YA collections." — School Library Journal, starred review
THE STAR-TOUCHED QUEEN by Roshani Chokshi (ages 13-19) is now available in trade paperback.
DREAM FOREVER by Kit Alloway (The Dream Walker Trilogy)
Ages 13 to 18
As the veil to the Dream becomes dangerously thin, Josh must stop it from tearing to save the world, in the conclusion to The Dream Walker Trilogy.
DREAMWORLD: Two Books in One: DREAMFIRE & DREAMFEVER by Kit Alloway (ages 13-18) is now available in trade paperback.
DEAR READER by Mary O'Connell
Available May 9, 2017
Ages 12 to 18
Gilmore Girls with magical realism! In this original, poignant modern-day take on Wuthering Heights, a high school senior searches for her teacher and meets a boy who may just be Heathcliff come to life.
CARRY ON by Rainbow Rowell (ages 13-19) will be available will be available in trade paperback on May 9, 2017.
SONGS ABOUT A GIRL by Chris Russell
Available May 30, 2017
Ages 12 to 18
Charlie Bloom is happiest behind her camera, taking pictures of her former classmate Olly Samson's new band, Fire&Lights. Soon, they're the hottest boy band in the country and Charlie becomes caught between Olly and Fire&Lights' gorgeous but damaged frontman, Gabriel West. As the boys' rivalry threatens to tear the band apart, Charlie stumbles on a secret about the band—and herself—hidden within the lyrics of their new #1 single.
I AM A SECRET SERVICE AGENT by Dan Emmett
Available June 6, 2017
Ages 12 to 18
Adapted from WITHIN ARM'S LENGTH for a young adult audience, a rare inside look at the Secret Service from an agent who protected Presidents George H. W. Bush, Bill Clinton, and George W. Bush.
YOU KNOW ME WELL by Nina LaCour & David Levithan (ages 13-19) will be available will be available in trade paperback on June 6, 2017.
SUMMER DAYS AND SUMMER NIGHTS, edited by Stephanie Perkins (ages 13-18) will be available will be available in trade paperback on June 13, 2017.
AMERICAN GIRLS by Alison Umminger (ages 13-18) will be available will be available in trade paperback on June 20, 2017.
AFTERCARE INSTRUCTIONS by Bonnie Pipkin
Available June 27, 2017
Ages 12 to 18
In the tradition of Jandy Nelson and Rainbow Rowell comes a big-hearted debut novel of furious friendship, crazy love, and unexpected hope after a teen's decision to end an unwanted pregnancy.
THE INEVITABLE COLLISION OF BIRDIE & BASH by Candace Ganger
Available July 25, 2017
Ages 13 to 18
Sebastian "Bash" Alvaréz is just trying to hold the pieces of his life together when he meets Birdie Paxton, a near-Valedictorian who shouldn't have been at the party. An undeniable attraction sparks, but they are pulled apart, only to be reunited by a horrifying tragedy.
BAD GIRL GONE by Temple Mathews
Available August 8, 2017
Ages 12 to 18
Sixteen year-old Echo Stone must solve her own murder in order to escape purgatory. But as her quest evolves into a journey of self-discovery, Echo is presented with one last chance to reclaim her life and must make a decision which will either haunt her or bless her forever.
AMAZING ANIMALS by Guinness World Records
Available August 29, 2017
Ages 6 to 10
Guinness World Records' newest book, AMAZING ANIMALS, is a wildlife encyclopedia celebrating incredible creatures great and small. it's also chock-full of stunning photos, quizzes, and activities, perfect for use in the classroom and library.
THREE-FIFTHS A MAN: A Graphic History of the African American Experience by Sid Jacobson & Ernie Colón
Available January 16, 2018 (available simultaneously in trade paperback)
Award-winning and bestselling team Jacobson & Colón bring history to life in this essential graphic novel primer on African American history, covering the sixteenth-century Atlantic slave trade, the election of Barack Obama, and the Black Lives Matter movement.
***
That's it for the books!
Thank you for reading about our featured teen titles coming in 2017. Don't forget to sign up for Edelweiss to download available e-galleys (instructions here), check out our Edelweiss collection, and download or request your Books for Teens 2017 posters!
Happy Reading!