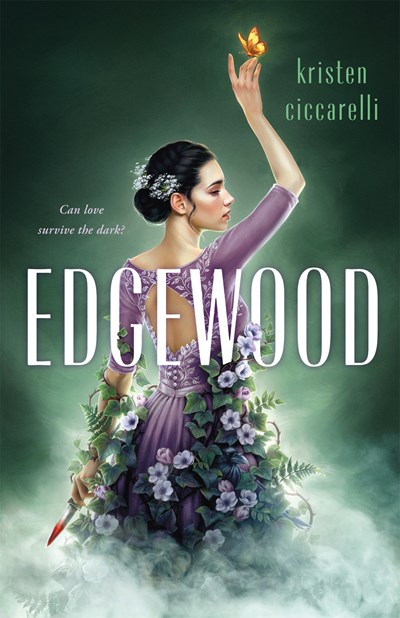 EDGEWOOD by Kristen Ciccarelli
9781250821522
3/1/22
Wednesday Books
Ages 13-18
E-galley available on Edelweiss and NetGalley
Emeline Lark lives and breathes music, and she's finally getting her big break. With nonstop gigs and a tour coming up, it seems as though nothing can get in her way . . . until her grandfather disappears from his nursing home. Emeline's almost-boyfriend, Joel, tells her not to think about it; her grandfather doesn't even remember her name or the fact that he raised her for her entire life. But despite all that, Emeline does the unthinkable and returns home to the infamous and haunting forest of Edgewood to find him.
Through the damp earth and dark moss of the magical forest, Emeline makes her way to the court of the fabled Wood King, where she makes a deal. The king has agreed to let her grandfather free, but there's a catch. Emeline must give up her ability to use her voice outside of the forest, which means giving up her music career. On top of that, she must learn and sing the music the Wood King finds so dear. But she has less than a week to do so, and there's another catch—she must be taught by the king's beautiful and intriguing henchman, Hawthorne.
Along her journey, Emeline faces one mystery and obstacle after another, as she uncovers secrets about music, Hawthorne, and her family, and discovers her true voice.
EDGEWOOD is an unforgettable story about the power of first love. Full of curses, magic, hauntingly beautiful characters, and a transcendent forest, this is a romantic and magnetic love story that takes readers on a gripping and mysterious journey. Emeline navigates what it means to lose the one person you thought you could always count on, and figures out that love isn't always what it seems.
Fans of THE HAZEL WOOD and THE RAVEN BOYS will find this lush and lyrical fantasy with a strong female lead completely transporting and addicting.
Happy reading!
<3 Samantha
YA Resources:
2021 Books for Teens
2022 Books for Teens
Day's YA archives
2021 Adult Books for Teens