Beloved Uncles, Bees, and Boyfriends!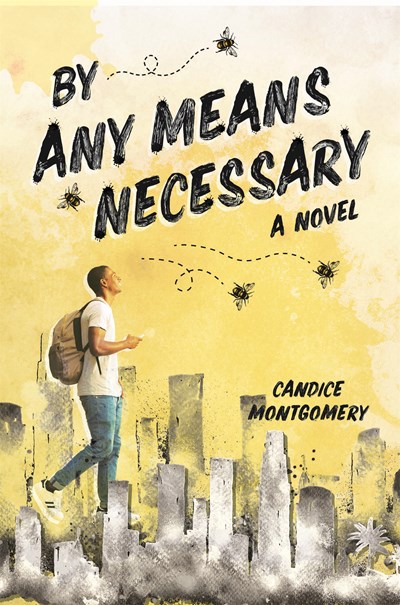 BY ANY MEANS NECESSARY by Candice Montgomery
9781624147999
Available October 8, 2019 from Page Street Kids
Ages 14 and up
When Torrey's favorite Uncle Miles unexpectedly dies, Torrey inherits Miles' most prized possession: his bee farm. In honor of his dear uncle, Torrey devotes himself wholeheartedly to taking care of the bees. But, as Torrey leaves L.A. to attend SFSU—the first in his family to attend college—he learns of the city's plans to foreclose on the farm.

While juggling demanding college professors and making new friends (including his first boyfriend!), Torrey is now fighting against the gentrification of his L.A. neighborhood to help protect the bees. Can Torrey successfully balance college life AND save the bee farm?

Torrey's voice is among the most authentic I've read in YA. He is smart, funny, and reading his story feels like talking to a friend. And while his family life is complicated, and battling the city isn't easy, Torrey remains unapologetically himself—Black, gay, and incredibly passionate about bees.

The novel's secondary characters are well developed and as enjoyable to get to know as Torrey. There's Torrey's roommate, the loyal Desh, and their suitemates, the four Black STEM-focused "no nonsense on every level" young women.There aren't many college-set YA novels, and BY ANY MEANS NECESSARY is a beautifully diverse addition to this nascent sub-genre.

This book is a brilliant and important exploration of college life, the impact of gentrification, cultural identity, and community. I'd recommend it to everyone, but especially to fans of Nic Stone, Elizabeth Acevedo, Angie Thomas, and Nicola Yoon.
Happy reading!
<3 Emily
Day's YA Archives:
PLEASE SEND HELP by Gaby Dunn and Allison Raskin (posted 9/13/2019)
THE GRACE YEAR by Kim Liggett (posted 8/30/2019)
THE GIRL THE SEA GAVE BACK by Adrienne Young (posted 8/16/2019)
THE LAST HOPE by Krista and Becca Ritchie (posted 8/2/2019)
HIS HIDEOUS HEART ed. by Dahlia Adler (posted 7/12/2019)
RED, WHITE & ROYAL BLUE by Casey McQuiston (posted 6/28/2019)
FINALE by Stephanie Garber (posted 6/14/2019)
ASK ME ANYTHING by Molly E. Lee (posted 5/17/2019)
AGAIN, BUT BETTER by Christine Riccio (posted 5/3/2019)
BIRTHDAY by Meredith Russo (posted 4/19/2019)
THIS IS NOT A LOVE SCENE by S.C. Megale (posted 4/5/2019)
WICKED SAINTS by Emily A. Duncan (posted 3/22/2019)
ECHO NORTH by Joanna Ruth Meyer (posted 3/8/2019)
YOU'D BE MINE by Erin Hahn (posted 2/22/2019)
TIN HEART by Shivaun Plozza (posted 1/18/2019)
CARRY ON by Rainbow Rowell (posted 1/4/2019)
ENCHANTÉE by Gita Trelease (posted 12/13/2018)
THE GILDED WOLVES by Roshani Chokshi (posted 11/30/2018)
ELEANOR & PARK by Rainbow Rowell (posted 11/8/2018)
IN PARIS WITH YOU by Clémentine Beauvais (posted (10/26/2018)
WONDERFUL FEELS LIKE THIS by Sara Lövestam (posted 10/11/2018)
TEEN TRAILBLAZERS by Jennifer Calvert, illus. by Vesna Asanovic (posted 9/26/2018)
AFTERCARE INSTRUCTIONS by Bonnie Pipkin (posted 9/14/2018)
FLIGHT SEASON by Marie Marquardt (posted 8/23/2018)
UNSTOPPABLE MOSES by Tyler James Smith (posted 8/9/2018)
I DO NOT TRUST YOU by Laura J. Burns & Melinda Metz (posted 7/25/2018)
SADIE by Courtney Summers (posted 7/12/2018)
MIRAGE by Somaiya Daud (posted 6/28/2018)
LEGENDARY by Stephanie Garber (posted 6/15/2018)
THE RAGING ONES by Krista & Becca Ritchie (posted 5/17/2018)
DEAR READER by Mary O'Connell (posted 5/9/2018)
FANGIRL by Rainbow Rowell (posted 4/26/2018)
THIS HEART OF MINE by C.C. Hunter (posted 4/13/2018)
I'M NOT MISSING by Carrie Fountain (posted 3/30/2018)
CHOOSE WONDER OVER WORRY by Amber Rae (posted 3/15/2018)
GIRLS MADE OF SNOW AND GLASS by Melissa Bashardoust (posted 3/1/2018)
IN SIGHT OF STARS by Gae Polisner (posted 2/15/2018)
BRING ME THEIR HEARTS by Sara Wolf (posted 2/1/2018)
CARAVAL by Stephanie Garber (posted 1/18/2018)
HOW I RESIST by Maureen Johnson (posted 1/4/2018)
13 MINUTES by Sarah Pinborough (posted 12/21/2017)
I HATE EVERYONE BUT YOU by Gaby Dunn and Allison Raskin (posted 12/6/2017)
SKY IN THE DEEP by Adrienne Young (posted 11/28/2017)