Happy Friday, YA librarians!
We're back from TLA and our TBR piles are a mile high. If you're in a similar situation, I recommend you start with this #ownvoices YA love story from Stonewall Award winner Meredith Russo.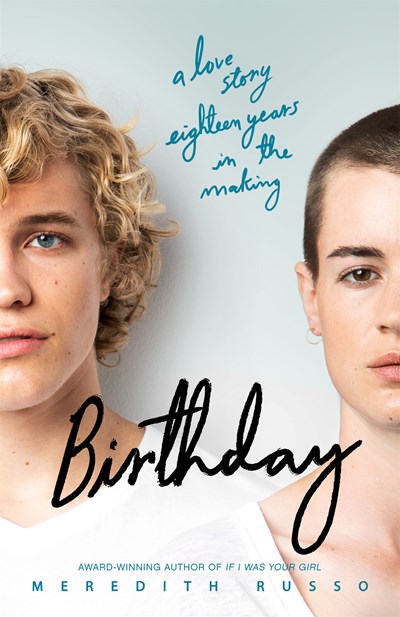 BIRTHDAY by Meredith Russo
9781250129833
Available May 21, 2019 from Flatiron Books YA
Ages 13 to 18

Eric and Morgan, born at the same time, in the same hospital, are inseparable. And every year on their shared birthday, we are treated to an inside view of their lives in that very moment. Year after year, the pair navigates who they are and how they fit into the world, both together and apart—as Eric deals with his abusive father and Morgan tries desperately to hide her true self from everyone . . . including Eric.
Meredith Russo, award-winning author of IF I WAS YOUR GIRL, has done it again. BIRTHDAY is a captivating and poignant love story. Eric and Morgan are beautifully rendered, and it's impossible not to feel connected to them. BIRTHDAY has the heart-twisting emotion of THE SUN IS ALSO A STAR, the heartwarming romance of THE UPSIDE OF UNREQUITED, and the unique narrative style of ONE DAY, and I want to read it again and again.

"Beautifully written, Birthday is an altogether singular contribution to the gradually growing body of transgender literature and, indeed, to mainstream literature, as well." —Booklist, starred review
Happy reading!
<3 Emily
Day's YA Archives:
THIS IS NOT A LOVE SCENE by S.C. Megale (posted 4/5/2019)
WICKED SAINTS by Emily A. Duncan (posted 3/22/2019)
ECHO NORTH by Joanna Ruth Meyer (posted 3/8/2019)
YOU'D BE MINE by Erin Hahn (posted 2/22/2019)
TIN HEART by Shivaun Plozza (posted 1/18/2019)
CARRY ON by Rainbow Rowell (posted 1/4/2019)
ENCHANTÉE by Gita Trelease (posted 12/13/2018)
THE GILDED WOLVES by Roshani Chokshi (posted 11/30/2018)
ELEANOR & PARK by Rainbow Rowell (posted 11/8/2018)
IN PARIS WITH YOU by Clémentine Beauvais (posted (10/26/2018)
WONDERFUL FEELS LIKE THIS by Sara Lövestam (posted 10/11/2018)
TEEN TRAILBLAZERS by Jennifer Calvert, illus. by Vesna Asanovic (posted 9/26/2018)
AFTERCARE INSTRUCTIONS by Bonnie Pipkin (posted 9/14/2018)
FLIGHT SEASON by Marie Marquardt (posted 8/23/2018)
UNSTOPPABLE MOSES by Tyler James Smith (posted 8/9/2018)
I DO NOT TRUST YOU by Laura J. Burns & Melinda Metz (posted 7/25/2018)
SADIE by Courtney Summers (posted 7/12/2018)
MIRAGE by Somaiya Daud (posted 6/28/2018)
LEGENDARY by Stephanie Garber (posted 6/15/2018)
THE RAGING ONES by Krista & Becca Ritchie (posted 5/17/2018)
DEAR READER by Mary O'Connell (posted 5/9/2018)
FANGIRL by Rainbow Rowell (posted 4/26/2018)
THIS HEART OF MINE by C.C. Hunter (posted 4/13/2018)
I'M NOT MISSING by Carrie Fountain (posted 3/30/2018)
CHOOSE WONDER OVER WORRY by Amber Rae (posted 3/15/2018)
GIRLS MADE OF SNOW AND GLASS by Melissa Bashardoust (posted 3/1/2018)
IN SIGHT OF STARS by Gae Polisner (posted 2/15/2018)
BRING ME THEIR HEARTS by Sara Wolf (posted 2/1/2018)
CARAVAL by Stephanie Garber (posted 1/18/2018)
HOW I RESIST by Maureen Johnson (posted 1/4/2018)
13 MINUTES by Sarah Pinborough (posted 12/21/2017)
I HATE EVERYONE BUT YOU by Gaby Dunn and Allison Raskin (posted 12/6/2017)
SKY IN THE DEEP by Adrienne Young (posted 11/28/2017)