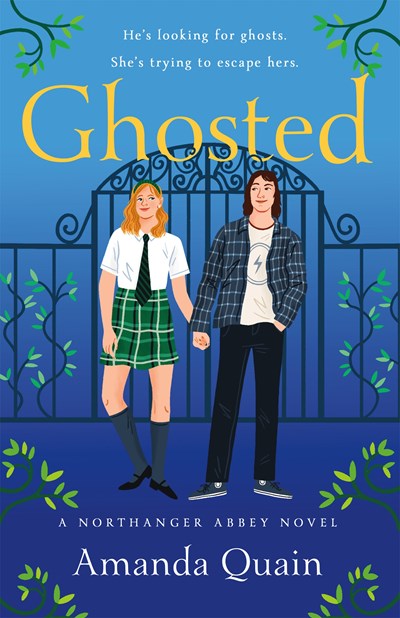 GHOSTED: A Northanger Abbey Novel by Amanda Quain
9781250865076
Wednesday Books
7/25/23
Ages 13-18
E-galley available on Edelweiss and NetGalley
Hattie Tilney is doing everything she can to be the perfect daughter. She's made sure to blend into the senior class at Northanger Abbey by curating a small group of friends, never talking about her dead dad, and certainly never even thinking about the ghosts that supposedly haunt the halls of her high school. To make matters even more complicated, Hattie's mom is the headmistress of her high school and has the highest of high expectations for herself, all of her students, and her daughter. Since Hattie's younger brother is only starting out in high school and her older sister is a lost cause, Hattie has taken it upon herself to do everything she can to make her mom proud. Which is why she doesn't question her mother when she assigns Hattie to be an ambassador for a new student who has transferred to Northanger on a scholarship from the National Paranormal Society of Investigators.
The new kid, Kit Morland, is a ghost enthusiast and he doesn't care who knows it. This doesn't exactly make him the coolest kid at Northanger, and Hattie is anxious to protect her image when she ends up partnered with him on a journalism project about the alleged paranormal activity at their school. But after spending more time with Kit, Hattie realizes he may just be exactly the kind of friend she needs right now. And hunting for ghosts with him brings up memories of her beloved dad, who was also a believer in the unexplained. In the end, Hattie must decide whether she wants to continue pushing her past away or if she finally wants to be authentic and proud of who she is.
GHOSTED is a heartwarming yet gothic read with an ingenious modern take on Jane Austen's classic novel. Hattie's journey of self-discovery during a pivotal time in her life is such a compelling one to follow, and Quain does an excellent job of writing the various nuanced relationships Hattie has in her life. The dynamic between Hattie and her mom was particularly interesting and one that many readers will relate to. I was rooting for Hattie the entire time and wanted nothing more than for her to succeed. It was also a lot of fun finding the connections (both obvious and subtle) between this novel and Austen's–now I want to reread Northanger Abbey immediately! I recommend this novel to fans of Emma Lord, Dana Schwartz, and the Netflix hit, Never Have I Ever.
Happy reading!
<3 Michelle
YA Resources:
2023 Books for Teens
Day's YA Archives
2023 Adult Books for Teens