"Just like that, my childhood armor was obliterated, and all it took was my soulmate ramming a butter knife into my heart."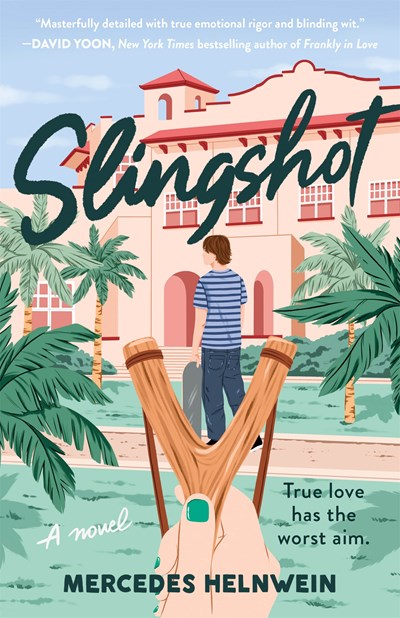 SLINGSHOT by Mercedes Helnwein
9781250253002
Available April 27, 2021 from Wednesday Books
Ages 13 – 18
E-galley available on Edelweiss and NetGalley
Gracie has boarding school figured out: avoid friendships, remain standoffish, and hang out alone. Then her slingshot hits a school bully, accidentally saving the new kid, Wade… 
And with the new kid, a new and very scary relationship develops. With the help of some older friends, late-night conversations, school rules suddenly feeling optional, and encouraging words, Wade slowly breaks down Gracie's walls. And despite Gracie's belief that the fewer people she cares about, the fewer people she can lose, she somehow falls head-over-heels in love with Wade.
SLINGSHOT is a hilariously relatable debut that will remind readers of the best and worst of high school. It describes the beauty and heartbreak of first love—full of vulnerability, brutal honesty, and really bad poetry. Gracie and Wade are funny, biting, sweet, romantic, and addictingly readable. This coming-of-age story is perfect for fans of Mary H.K. Choi, David Yoon, and Rainbow Rowell.  
"Gracie's a powerhouse: incredibly acerbic, prone to lashing out, and painfully relatable. She and Wade are magnetic together, but it's Gracie's carefully drawn growth that buoys her story into one that is truly memorable . . . Wildly real and bursting with all the romance and pain of coming into oneself." —Kirkus Reviews, starred review
Happy reading!
<3 Samantha
---
You can find all of our 2021 Books for Teens here and the Day's YA archives here.
Are you a librarian who loves YA? Would you like to submit a guest post to be featured on our Day's YA column? Fill out this form with your information, and we'll be in touch about a collaboration!