TGIF, YA friends!
We're heating up this chilly Friday with a steamy #ownvoices YA romance.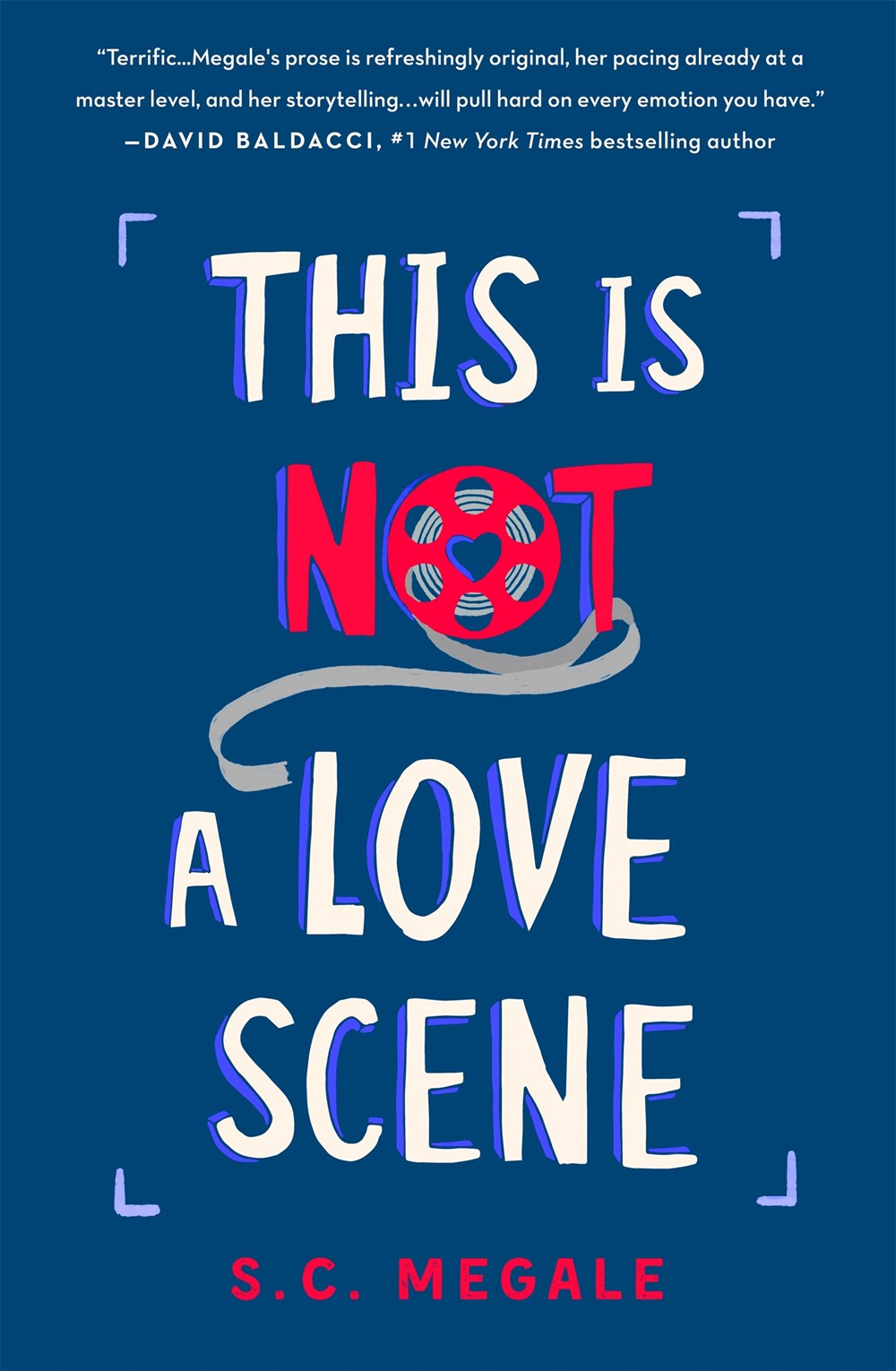 THIS IS NOT A LOVE SCENE by S.C. Megale
9781250190499
Available May 7, 2019 from Wednesday Books
Ages 14 to 18

Eighteen-year-old Maeve is ready to lose her v-card. Unfortunately, her rare form of muscular dystrophy confines her to a wheelchair and means that most boys don't give her a second look. But that doesn't stop her from flirting with any hot guy that crosses her path, including Cole Stone, the hunky college-aged actor starring in the film she's directing. Maeve and Cole's interactions are increasingly flirtatious, beginning with coy innuendos between takes and soon leading to steamy text exchanges. But will Maeve's physical limitations prevent them from going all the way? Not if she can help it.
This humorous coming-of-age story had me in stitches, but it's not without its serious emotional moments. Between navigating first love, senior year, and her disability, Maeve's life has its share of drama. But she handles it all like a champ with her snarky persona and sexual confidence, all while fighting against an ableist world and proving that her disability does not define her. THIS IS NOT A LOVE SCENE is refreshingly honest and is perfect for fans of Meredith Russo, Becky Albertalli, and Julie Murphy.
Happy reading!
<3 Emily
Day's YA Archives:
WICKED SAINTS by Emily A. Duncan (posted 3/22/2019)
ECHO NORTH by Joanna Ruth Meyer (posted 3/8/2019)
YOU'D BE MINE by Erin Hahn (posted 2/22/2019)
TIN HEART by Shivaun Plozza (posted 1/18/2019)
CARRY ON by Rainbow Rowell (posted 1/4/2019)
ENCHANTÉE by Gita Trelease (posted 12/13/2018)
THE GILDED WOLVES by Roshani Chokshi (posted 11/30/2018)
ELEANOR & PARK by Rainbow Rowell (posted 11/8/2018)
IN PARIS WITH YOU by Clémentine Beauvais (posted (10/26/2018)
WONDERFUL FEELS LIKE THIS by Sara Lövestam (posted 10/11/2018)
TEEN TRAILBLAZERS by Jennifer Calvert, illus. by Vesna Asanovic (posted 9/26/2018)
AFTERCARE INSTRUCTIONS by Bonnie Pipkin (posted 9/14/2018)
FLIGHT SEASON by Marie Marquardt (posted 8/23/2018)
UNSTOPPABLE MOSES by Tyler James Smith (posted 8/9/2018)
I DO NOT TRUST YOU by Laura J. Burns & Melinda Metz (posted 7/25/2018)
SADIE by Courtney Summers (posted 7/12/2018)
MIRAGE by Somaiya Daud (posted 6/28/2018)
LEGENDARY by Stephanie Garber (posted 6/15/2018)
THE RAGING ONES by Krista & Becca Ritchie (posted 5/17/2018)
DEAR READER by Mary O'Connell (posted 5/9/2018)
FANGIRL by Rainbow Rowell (posted 4/26/2018)
THIS HEART OF MINE by C.C. Hunter (posted 4/13/2018)
I'M NOT MISSING by Carrie Fountain (posted 3/30/2018)
CHOOSE WONDER OVER WORRY by Amber Rae (posted 3/15/2018)
GIRLS MADE OF SNOW AND GLASS by Melissa Bashardoust (posted 3/1/2018)
IN SIGHT OF STARS by Gae Polisner (posted 2/15/2018)
BRING ME THEIR HEARTS by Sara Wolf (posted 2/1/2018)
CARAVAL by Stephanie Garber (posted 1/18/2018)
HOW I RESIST by Maureen Johnson (posted 1/4/2018)
13 MINUTES by Sarah Pinborough (posted 12/21/2017)
I HATE EVERYONE BUT YOU by Gaby Dunn and Allison Raskin (posted 12/6/2017)
SKY IN THE DEEP by Adrienne Young (posted 11/28/2017)