Our list of favorite forthcoming 2016 teen titles collected all in one place, just for you and your teen patrons is finally here. In addition to the always-exciting selection from Griffin Teen (including new books from David Levithan and Stephanie Perkins), keep an eye out for YA debuts IF I WAS YOUR GIRL and AMERICAN GIRLS from Flatiron Books.
But first, make sure that you're pre-approved on Edelweiss to download all of our available e-galleys. Click here to find out how to be whitelisted.
You can also view our Edelweiss collection of Books for Teens 2016 titles here.
Our super-cool "Books for Teens Twenty-SixTEEN" poster is now available!
You're in for a treat because this year's poster is double-sided—flip it over and color your own CARRY ON  book jacket! Click here to download a copy or email us to request a hard copy (don't forget to include your mailing address).
Now on to the books, starting with Flatiron YA!
IF I WAS YOUR GIRL by Meredith Russo
**TWO STARRED REVIEWS** Amanda Hardy is the new girl in school in Lambertville, Tennessee. Like anyone else, she wants to make friends and fit in, but she has a secret. When she meets sweet, easygoing Grant, she can't help but let him in. As they spend more time together, she finds herself yearning to share with Grant everything about herself, including her past. But Amanda's terrified that once she tells the truth, no one will be able to see past it. Because the secret that Amanda's been keeping? At her old school, she used to be Andrew.
"Russo has written a story that many trans teens—and adults—have been wanting: a sweet, believable romance that stokes the fires of hope without devolving into saccharine perfection or horrific tragedy. Above all, this is a necessary, universal story about feeling different and enduring prejudices, and it's full of love, hope, engaging writing, and truth." — Kirkus Reviews, starred review
"In an illuminating debut guided by hope and overwhelming kindness, Russo demonstrates the challenges teens face in finding 'the truest version' of themselves." — Publishers Weekly, starred review
AMERICAN GIRLS by Allison Umminger
***THREE STARRED REVIEWS!*** When fifteen-year-old Anna "borrows" her family's credit card and runs away to L.A. to crash with her half-sister, she has to work to pay her way home. Her sister's creepy ex-boyfriend hires Anna for a seriously macabre research project for his indie film: to research the murderous Manson girls. This is not quite the summer Anna had in mind, but it may just be the one that she needs to understand and accept her family, and herself, in a new way.
"Setting her tale against the glittery, gritty backdrop of modern-day Los Angeles, the author deftly weaves together multiple story strands to create a razor-sharp commentary on our culture, observed with keen wit from the perspective of one honest and complex American girl. An insightful, original take on the coming-of-age story, this novel plumbs the depths of American culture to arrive at a poignant emotional truth." — Kirkus Reviews, starred review
"Debut author Umminger's humor is biting ("My family was clearly the place where optimism went to die"), yet it reveals richly complicated relationships among mothers, daughters, and sisters. Umminger crafts a Los Angeles both glittering and soulless, leading to Anna's realization that she may have more in common with the Manson girls than she thought, but it's the choices she makes that set her apart."
— Publishers Weekly, starred review
"Bittersweet and true, Anna's journey to self-discovery is one that should be widely read." — Booklist, starred review
CARRY ON by Rainbow Rowell
A 2016 YALSA Best Fiction for Young Adults selection!  Rainbow Rowell continues to break boundaries with CARRY ON, an epic fantasy following the triumphs and heartaches of Simon and Baz from her beloved bestseller FANGIRL.
"A brilliantly addictive, genuinely romantic story… It's as if Rowell turned the Harry Potter books inside out, and is showing us the marvelous, subversive stuffing inside." — Time Magazine
"With rock-solid worldbuilding, a sweet and believable romance subplot, and satisfying ending, CARRY ON is a monumentally enjoyable reading experience. Hand this to fans of Rowell, Harry Potter, love stories, and magic."
— School Library Journal, starred review
"…irresistible and surprisingly tender, but the true strength here is the characterizations… Stock up on copies—this one begs to be reread."
— Booklist, starred review
"…this book can be read as a tribute to Harry Potter and Lev Grossman's Magicians series, and it's a sterling example of how to use genre conventions to create something new. The funny, wised-up dialogue, the tumultuous, sweet, and sexy love story is grade-A Rowell…readers will find [this] almost impossible to put down. — Publishers Weekly, starred review
BREAKAWAY by Kat Spears
Also available in trade paperback
A 2016 YALSA Best Fiction for Young Adults Nominee! From the author of the YALSA 2015 Best Fiction for Young Adults pick, SWAY (now available in trade paperback), comes a new novel that asks the question: when a group of four best friends begins to drift apart, what will it take to bring them back together? BREAKAWAY received two starred reviews, including this one from Booklist: "A painfully honest and powerful depiction of the changing nature of friendships in the face of hardship and an exploration of what it means 'to be human and alive.'"
THE BOY WHO KILLED GRANT PARKER by Kat Spears
Ages 13 to 18
From the author of the YALSA 2015 Best Fiction for Young Adults pick, SWAY, comes a high stakes contemporary story of a city teen who moves to a small town and finds himself head to head with the local bully.
DREAM THINGS TRUE by Marie Marquardt
A 2016 YALSA Quick Picks for Reluctant Readers Nominee! A modern-day Romeo and Juliet story in which a wealthy Southern boy falls in love with an undocumented Mexican girl and together face their hostile Georgia town. "Readers seeking a star-crossed love story with a twist won't be disappointed." — Publishers Weekly
THE WEIGHT OF FEATHERS by Anna-Marie McLemore
A 2016 YALSA Morris Award Finalist & Best Fiction for Young Adults selection! The Night Circus meets Romeo and Juliet in this stunning young adult novel about two teens from rival traveling performer families who fall in love despite the almost impossible odds against them. "McLemore's prose is ethereal and beguiling… The enchanting setup and the forbidden romance that blooms…will quickly draw readers in, along with the steady unspooling of the families' history and mutual suspicions in this promising first novel." — Publishers Weekly
THE WEIGHT OF FEATHERS by Anna-Marie McLemore (ages 14-18) will be available in trade paperback on September 26, 2017.
WHEN THE MOON WAS OURS by Anna-Marie McLemore
Longlisted for the 2016 National Book Award for Young People's Literature and three starred reviews! From Morris Award finalist Anna-Marie McLemore comes a second stunning novel tinged with magic, about a girl with roses that grow from her wrist who happens to be hiding the truth, a boy with past secrets who paints moons and hangs them in trees, and four sisters rumored to be witches, who could ruin them both. "With luminous prose infused with Latino folklore and magical realism, this mixes fairy-tale ingredients with the elegance of a love story, with all of it rooted in a deeply real sense of humanity. Lovely, necessary, and true."
— Booklist, starred review 
MOON CHOSEN by P.C. Cast
#1 New York Times bestselling author, P.C. Cast, returns with a new epic fantasy! Mari is an Earth Walker, heir to the unique healing powers of her Clan; but she has cast her duties aside, until she is chosen by a special animal ally, altering her destiny forever. When a deadly attack tears her world apart, Mari reveals the strength of her powers and the forbidden secret of her dual nature as she embarks on a mission to save her people. "While many fantasy series style themselves as epic, this one may actually be worthy of the description. Fantasy lovers who are fans of Cinda Williams Chima's 'Seven Realms' novels will fall in love with Mari and Nik." — School Library Journal
THE STAR-TOUCHED QUEEN by Roshani Chokshi
**TWO STARRED REVIEWS!** A lush, beautifully written and vividly imagined fantasy inspired by Indian folklore about sixteen-year-old Maya, whose world is up-ended when her father arranges a wedding of political convenience to quell outside rebellions. Now, Maya must confront a secret that spans reincarnated lives and fight her way through the dangerous underbelly of the Otherworld if she wants to protect the people she loves.
"A setting drawn from ancient India, romance with feminist sensibilities, and a unique magic system reminiscent of Laini Taylor's DAUGHTER OF SMOKE AND BONE make this a novel sure to appeal to fans of Renée Ahdieh's THE WRATH AND THE DAWN. A stunning debut filled with lush writing, smart characters, and a mysterious plot that provides as many twists as it does swoons." — School Library Journal, starred review
"Chokshi's prose is captivating, and the pages come alive through lush descriptions of Night Bazaar teeming with Otherworldly delights, gardens made of glass, and realms where the lines between life and death are blurred. Maya is a strong heroine, and while there is romance, an emphasis on familial love adds another level of richness to a folkloric fantasy about sacrifice, self-discovery, and making your own destiny." — Publishers Weekly, starred review
THE MEMORY OF THINGS by Gae Polisner
A powerful novel about two teenagers finding friendship, comfort, and first love in the days immediately following 9/11 as their fractured city tries to put itself back together. "A touching look at the power of selflessness, memory, and hope in the face of tragedy." — Booklist
THE LOST GIRL by R.L. Stine (Fear Street series)
New student Lizzy Palmer is the talk of Shadyside High. Michael and his girlfriend Pepper befriend her, but the closer they get to her, the stranger she seems… and the more attractive she is to Michael. "Horror fans, particularly reluctant readers, will be suitably pleased." — Booklist
CAN YOU KEEP A SECRET? by R.L. Stine (Fear Street series)
On an overnight camping trip in the Fear Street Woods, six friends discover a bag filled with thousands of hundred-dollar bills. They agree to leave the bag where it is until it's safe to use it, but when one of the group members returns to the woods to skim some money, she finds the bag is gone—and so is the trust of six friends with a big secret.
THE DEAD BOYFRIEND by R.L. Stine (Fear Street series #5)
Colin is Caitlin's first real boyfriend, so when she sees Colin with another girl, Caitlin completely loses it. When she comes back to her senses, she realizes that Colin is dead. But if Colin is dead, how is he staring at her across a crowded party?
FEAR STREET SUPER THRILLER: SECRETS: THE LOST GIRL & CAN YOU KEEP A SECRET by R.L. Stine (ages 12-18) is now available in trade paperback.

EVOLUTION by Stephanie Diaz (Extraction series #3)
In the final book in the Extraction series, Clementine's world is on the brink of destruction and she and her friends have no choice but to retreat and form a temporary alliance with their sworn enemy.
ROMANCING THE DARK IN THE CITY OF LIGHT by Ann Jacobus
A troubled teen living in Paris is torn between two boys, one of whom encourages her to embrace life, while the other—dark, dangerous, and attractive—urges her to embrace her fatal flaws. "Recommend to teens who are interested in exploring serious issues, such as suicide and teen alcoholism, or those who prefer their fiction moody and thought-provoking." — Booklist
TELL THE STORY TO ITS END by Simon P. Clark
In this beautiful, haunting debut, a boy is whisked away to the country in the wake of a scandal, and finds a captivating creature in the attic whose attention comes at a sinister price. "Echoing the surreal quality and settings of David Almond's books, this novel adeptly mixes fantasy with reality and leaves some pressing questions unanswered." — Publishers Weekly
UNSPOKEN by C.C. Hunter (Shadow Falls After Dark #3)
The final installment in the Shadow Falls After Dark trilogy! When Della tries to solve a twenty year old murder—and clear her father's name—she uncovers secrets about the vampire council and the boy she's bonded to.
ALMOST MIDNIGHT by C.C. Hunter (Shadow Falls After Dark series)
Now available in print for the first time, these enchanting novellas about vampires Della Tsang and Chase Tallman, witch Miranda Kane, and werewolf Fredericka Lakota, will reveal a side of the Shadow Falls camp that you've never seen before.
MIDNIGHT HOUR by C.C. Hunter (Shadow Falls series)
In the conclusion to the New York Times bestselling Shadow Falls saga, Miranda Kane is preparing to graduate when a near-death experience threatens to ruin it all.
HOW TO BE BRAVE by E. Katherine Kottaras
An emotional contemporary YA novel about love, loss, and having the courage to chase the life you truly want.  "Georgia's Greek-American heritage offers a distinctive backdrop for the novel's themes of emotional healing and self-discovery, while Georgia herself emerges as a realistically flawed and genuine protagonist." — Publishers Weekly
INSTRUCTIONS FOR THE END OF THE WORLD by Jamie Kain
From the author of THE GOOD SISTER (now available in trade paperback) comes a gripping novel about two sisters who learn that there are things in life that you simply can't prepare for.  "The novel shines when Kain probes the destructive tensions and jealousies that can arise between siblings, and the ways in which families dissemble and find ways to mend." — Publishers Weekly
FIRSTS by Laurie Elizabeth Flynn
Seventeen-year-old Mercedes Ayres has an open-door policy when it comes to her bedroom, but only if the guy fulfills a specific criteria: he has to be a virgin. But Mercedes doesn't bank on her best friend Angela's boyfriend finding out about her services and wanting a turn—or on Zach, who likes her for who she is instead of what she can do in bed. "#yalit needs more funny, honest TEEN GIRL driven sex comedies so I'm SO EXCITED to read this!" — Angie Manfredi, Los Alamos County Library System, NM
SANCTUARY BAY by Laura Burns & Melinda Metz
In this genre-bending YA thriller, Sarah Merson's new school may seem like an idyllic temple of learning, but as she unearths years of terrifying history and manipulation, she discovers this "school" is something much more sinister.
DREAMFEVER by Kit Alloway (The Dream Walker Trilogy)
In the exciting sequel to DREAMFIRE, Josh struggles with the discovery that she's the True Dream Walker, trying to protect the lost dream walker princess, and keeping the Lodestone party from taking power.
IN REAL LIFE by Jessica Love
MY BEST FRIEND'S WEDDING meets THE HANGOVER—for teens—in this YA novel about a high school student who meets her online BFF and discovers how many secrets he has left unshared.
THE HIDDEN TWIN by Adi Rule

For eighteen years a girl with no name has been hidden away in a small attic room while her identical sister, Jey, has lived her life in public as an only child. But when she switches places with Jey and finds herself in danger, she must prove herself more than a monster if she is to save both her sister and her home.
INVISION by Sherrilyn Kenyon (Chronicles of Nick #7)
It's not easy being the heir of a demon overlord, but Nick Gautier is determined to thwart his destiny and get into a good college. Instead he has to battle the demons within that are far deadlier and more treacherous than any he's battled before—oh, and his arch nemesis is back and determined to reclaim his place as the harbinger for Armageddon.
INSTINCT by Sherrilyn Kenyon (Chronicles of Nick #6) is now available in trade paperback.
THE ONLY THING WORSE THAN ME IS YOU by Lily Anderson
Stephanie Perkins meets 10 THINGS I HATE ABOUT YOU in this fresh, romantic debut young adult novel loosely based on MUCH ADO ABOUT NOTHING. The war of Trixie Watson v. Ben West is as vicious as the Doctor v. Daleks and Browncoats v. Alliance combined, and it goes all the way back to the infamous monkey bars incident in the first grade. The war is Trixie's for the winning, until her best friend starts dating Ben's best friend and the two are unceremoniously dumped together and told to play nice.
SUMMER DAYS & SUMMER NIGHTS: Twelve Love Stories, edited by Stephanie Perkins ***FOUR STARRED REVIEWS!***
Twelve romantic summer stories by twelve bestselling young adult authors, including Francesca Lia Block, Libba Bray, Cassandra Clare, and Veronica Roth!
"Offering a sampling of many different genres, bright and distinct narrative voices, and a generous portion of tender moments, this book has something for everyone who has loved or longs for it." — Publishers Weekly, starred review
"An intelligent beach read with heart, soul, and sizzle." — Kirkus Reviews, starred review
"This title is a sizzling must-have that will be too hot to keep on shelves." — School Library Journal, starred review
"These big-name authors deliver a collection that scorches as surely as any day in the sun." — Booklist, starred review
MY TRUE LOVE GAVE TO ME: Twelve Holiday Stories, edited by Stephanie Perkins (which received 4 starred reviews!!! Ages 13-18) is now available in trade paperback.
RESURGENCE by Kerry Wilkinson (The Silver Blackthorn Trilogy #3)
In the conclusion of The Silver Blackthorn Trilogy, Silver must forge a new allegiance to change the world she lives in, and finally decide who her heart belongs to.
YOU KNOW ME WELL by Nina LaCour & David Levithan
A powerfully moving story about navigating the joys and heartaches of first love, told in alternating viewpoints through a friendship forged over the course of one fateful pride week in San Francisco. "Popular authors LaCour and Levithan tell their heartfelt story seamlessly in chapters that alternate between Mark's and Kate's respective points of view and invite readers' emotional engagement with these two empathetic teens." — Booklist
THE POSSIBILITY OF SOMEWHERE by Julia Day
Ash Gupta is admired by his peers, enjoying his last year of classes and getting the kind of grades that his wealthy, immigrant parents expect. Eden Moore is the unpopular, sharp-tongued girl from the trailer park most likely to become class valedictorian. What can the future hold for two passionate souls from totally different worlds? "This is an engaging read. The narrative takes place during one semester of school, and it's full of drama, struggles with money and grades, family turmoil, and identity issues."
— School Library Journal
WAR DOGS: Tales of Canine Heroism, History, and Love by Rebecca Frankel
In this special edition adapted specifically for a younger audience, Frankel gives further insight into her work as a journalist and how it led her to explore the important role that dogs and their handlers/soldiers have played in America's most recent military conflicts. "A solid choice for those who love dogs and are interested in all things military." — School Library Journal
HOW TO KEEP A BOY FROM KISSING YOU by Tara Eglington
Aurora Skye is sweet sixteen and never been kissed—and that's the way she wants it to be. But when she's cast in her high school's production of Much Ado about Nothing, she must avoid having her first kiss with Hayden Paris, her co-star, next door neighbor, and the bane of her existence. OR IS HE? "Eglington celebrates female friendship and loyalty, too, and Aurora's sunny outlook will satisfy readers looking for a romantic comedy with a dash of Shakespeare." — Publishers Weekly
THE BEST POSSIBLE ANSWER by E. Katherine Kottaras
A contemporary YA novel about ultra-high-achiever Viviana Rabinovich-Lowe, whose quest for perfection comes to a screeching halt when her boyfriend leaks racy pictures of her to the entire school. Making matters worse, her parents are getting divorced. Through it all, Viv learns something they never covered in her AP courses: that loving yourself is more important than trying to be perfect. "A sensitive novel about accepting imperfection." — Kirkus Reviews
WE ARE STILL TORNADOES by Michael Kun & Susan Mullen
In this debut romance set in 1982, best friends Scott and Cath remain pen pals throughout their freshman year of college. That is, until they start to realize that maybe friends is not all they are to each other…but can they make a relationship work off the page and in real life? "Readers aching for a combination of the '80s and a romance like Rainbow Rowell's ELEANOR & PARK will be stoked to find this wicked, gnarly, and totally righteous novel." — Booklist
THE INFINITY OF YOU & ME by J.Q. Coyle
What if every life-altering choice you made could split your world into infinite worlds? Almost fifteen, Alicia is smart and funny—and hallucinates different worlds. In one particularly vivid hallucination, she's drawn to a boy her own age named Jax. It's up to Alicia to find out why they are bound together by a strange past and intertwining present. "The clever, fast-moving plot features a strong, appealing heroine, Sylvia Plath's poetry, romance, betrayal, and heart-stopping suspense. Science-fiction fans will say 'You had me at "multiverse," ' while those seeking an alternative to near-future dystopias will find plenty to entertain them here." — Kirkus Reviews
THE ARAB OF THE FUTURE 2: A Childhood in the Middle East, 1984-1985: A Graphic Memoir by Riad Sattouf
THREE starred reviews! "In the second volume of an acclaimed five-part graphic memoir, originally published in France, cartoonist Sattouf captures the discomfiting and occasionally humorous details of his first year in school in a Syria that is casually anti-Semitic and not particularly kind to anyone." — Publishers Weekly, starred review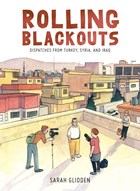 ROLLING BLACKOUTS: Dispatches from Turkey, Syria, and Iraq by Sarah Glidden
In this graphic novel, cartoonist Glidden details her two-month long journey through Turkey, Iraq, and Syria as she accompanies two reporters while they research stories on the Iraq War's effect on the Middle East and, specifically, the war's refugees. "Glidden's understated, face-focused illustration style gets under your skin—by removing her own personality from the writing, the author sucks readers in so deeply that you really feel present, seeing her journey through her eyes."
— Library Journal, starred review
SHIRLEY JACKSON'S "THE LOTTERY": The Authorized Graphic Adaptation by Miles Hyman
available simultaneously in trade paperback
Two starred reviews! Published in time for Jackson's centennial, this graphic adaptation masterfully reimagines her iconic story with a striking visual narrative created by her grandson, Miles Hyman. "A stunning graphic adaptation of a chilling classic." — Kirkus Reviews, starred review
***
That's it for the books!
Thank you for reading about our featured teen titles coming in 2016. Don't forget to sign up for Edelweiss to download available e-galleys (instructions here) and make sure to check out our Books for Teens 2016 collection.
Happy reading!