Books for Teens 2018 + "Day's YA!"
Welcome to the 2018 Books for Teens post!
I am Emily Day, Macmillan's Library Marketing Assistant / YA Specialist and your host and curator of this post. I recently moved to NYC from Boston, where I worked as a bookseller at Trident Booksellers and Cafe, an intern at Charlesbridge Publishing and the Horn Book, and a children's literature graduate student at Simmons College. If I'm listening to music, it's probably a Broadway musical soundtrack, I love and collect maps, and I prefer cold, cloudy days to warm, sunny ones. I read YA almost exclusively, and some of my all-time favorites are WORDS IN DEEP BLUE by Cath Crowley, ARISTOTLE AND DANTE DISCOVER THE SECRETS OF THE UNIVERSE by Benjamin Alire Sáenz, I'LL GIVE YOU THE SUN by Jandy Nelson, INSIDE OUT & BACK AGAIN by Thanhha Lai, and ANNE OF GREEN GABLES by L.M. Montgomery (technically those last two aren't YA, but they're just so spectacular that I had to list them).
In addition to featuring forthcoming YA and YA-ok titles from Wednesday Books and Flatiron Books YA, I will also include my candid reviews of as many titles as I can possibly read (starting with two of my absolute faves, Melissa Albert's THE HAZEL WOOD and Adrienne Young's SKY IN THE DEEP), which will be labeled as "Day's YA!" [GET IT? HA!] So, when you're ready to scroll, stories of Vikings and Valkyries, hospitals and heartthrobs, mental illness and fighting back, all await you below.
Ready? Here we go!
First, make sure that you're pre-approved on Edelweiss to download all of our available e-galleys, including many of the titles mentioned below. Click here to find out how to be whitelisted.
You can also view our Edelweiss collection of Books for Teens 2018 titles here.
Now on to the books!
THE HAZEL WOOD by Melissa Albert
9781250147905
Available January 30, 2018
Ages 12 to 18
Also available in audio
Five starred reviews!!
Day's YA Review:
Many fairy tales begin with "once upon a time" and end with "happily ever after." Melissa Albert's debut novel is not one of those fairy tales. Albert expertly weaves a story that is magically creepy and mesmerizing. THE HAZEL WOOD begins with Alice, a seventeen-year-old girl who, along with her mother, Ella, is constantly running from bad luck that seems to follow them wherever they go. Alice is the granddaughter of Althea Proserpine, the mysterious author of a beloved, but rare, book of fairy tales set in the sinister world of the Hinterland. When Althea dies suddenly Alice and her mother expect their luck to improve, but instead, their ill fortune takes a turn for the worse. Ella is taken away by someone who claims to be from the Hinterland, and Alice must find her way there, despite Ella's one command that she stay away. Alice seeks out the Hinterland to find her mother, but she may uncover much more along the way.
Reminiscent of Emily Carroll's THROUGH THE WOODS and Emma Donoghue's KISSING THE WITCH, Melissa Albert has hit the nail on the head with this spooky homage to fairy tales. Though Albert's novel is not a retelling of a classic fairy tale, she has managed to create a completely original narrative filled with riveting characters and a captivating plot that still retains some of the elements of more traditional tales. THE HAZEL WOOD is an obvious choice for lovers of fantasy novels and classic fairy tales, but it will also appeal to fans of YA mystery novels, such as E. Lockhart's WE WERE LIARS, and stories about the discovery of deep, personal truths, such as Nicola Yoon's EVERYTHING EVERYTHING. Albert's enchanting debut novel is truly something special and will leave you with the lingering notion that our stories are all around us, influencing us and comprising our most inner beings.
LEGENDARY by Stephanie Garber
9781250095312
Available May 29, 2018
Ages 13 to 18
Also available in audio
In the sequel to the New York Times bestselling and #1 IndieNext Pick CARAVAL, Stephanie Garber's limitless imagination takes flight once more. This year's Caraval has concluded and Tella is alive—and safe, to her older sister's relief. But Tella has secrets she has been keeping from Scarlett. Afraid of revealing the truth to the person who loves her most, Tella runs away to Valenda, the capital of the Empire, to find the mysterious correspondent whom Tella owes.
CARAVAL by Stephanie Garber (ages 13 to 18) will be available in trade paperback on May 1, 2018.
9781250095268
SKY IN THE DEEP by Adrienne Young
9781250168450
Available April 24, 2018
Ages 12 to 18
Also available in audio
Day's YA Review:
Initial reaction: This book is so good I'm having trouble coming up with the words to describe it. Must process. Check back later.
Update: Okay. I've processed. Here we go.
As a member of the Aska clan, seventeen-year-old Eelyn has spent her entire life learning how to be a warrior—preparing for the traditional battle against the enemy clan. For many centuries, the gods of the Riki and the Aska have been at war, so the clans battle it out every five years on behalf of their gods. This time is different for Eelyn, though. She has been waiting for five long years to avenge the death of her brother, who fell off of a cliff in front of Eelyn during the last battle against the Riki. So when Eelyn sees her dead brother, Iri, fighting with the Riki in battle, she is forced to question everything she thought she knew. In a moment of uncertainty, Eelyn is captured by the Riki and must spend the winter in their village, living among the enemy in the place her brother now calls home. Eelyn desperately longs to get back to her clan and her family, but there is no way for her to do so. When a third clan—one even more brutal than the others—attacks the Riki village, Eelyn must convince the Riki and the Aska to set aside their differences and work together to defeat the new enemy.
As soon as I reached the last page of this novel, I wanted to go back and start from the beginning again just so I could continue to be wrapped up in Young's words. Know her characters. Experience the world she created. The character of Eelyn is a badass warrior heroine who will appeal to fans of Marvel's Wonder Woman, as well as Disney's Brave and Tamora Pierce's Alanna series. Eelyn is simultaneously fierce and sensitive; she loves deeply, but she is also able to instantly take someone down with her axe. Adrienne Young's debut novel is written with the finesse of a veteran author, and to give you a taste of her brilliance I'm going to leave you with a quote from the second page of the book that captures the emotion and voice of the novel:
"Vegr yfir fior. Honor above life. The first whistle cut into the air from our right, warning us to get ready and I closed my eyes, feeling the steadiness of the earth beneath my feet. The sounds of battle rushing toward us bled together as the deep-throated prayers of my clansmen rose up around me like smoke from a wildfire. I let the words march out under my breath, asking Sigr to guard me. To help me bring down his enemies."
And now, a word from debut author, Adrienne Young:
Dear Librarians,

As story gatekeepers, I know the role you play in a book's life and in the life of young people is invaluable. That's why I am so excited for you to meet Eelyn, a fierce, but deep warrior whose life is about to change forever. In many ways, her journey reflects my own and I know that there are teens out there who will find a mirror in these pages. What I hope girls see in this book is the message that I wish had been given to me—that you don't have to apologize for strength and passion and that you don't have to be either hard or soft, but that you can be both. You can fight fiercely and you can love deeply. Most importantly, that you can dare to see the world differently than the way you always have. And that even though it's scary, it's absolutely thrilling to open your eyes for the first time. Eelyn will be forced to confront everything she's ever been taught. She will have to grieve, learn to love, and redefine what family, loyalty, and forgiveness is.

I hope you are swept away with Eelyn as she runs straight into battle, headed toward a future she could never have imagined!

Thank You,
Adrienne Young
SHADOWSONG by S. Jae-Jones
9781250129130
Available February 6, 2018
Ages 12 to 18
SHADOWSONG is the conclusion to the gorgeous and lush Wintersong duology. Six months after the end of WINTERSONG, Liesl is working toward furthering both her brother's and her own musical careers. Although she is determined to look forward and not behind, life in the world above is not as easy as Liesl had hoped. Her younger brother Josef is cold, distant, and withdrawn, while Liesl can't forget the austere young man she left beneath the earth, and the music he inspired in her.
"Introspective, ethereal… An elegant conclusion to a wholly original duology."—Booklist, starred review
WINTERSONG by S. Jae-Jones (ages 12 to 18) will be available in trade paperback on February 6, 2018.
9781250157362
BETWEEN THE BLADE AND THE HEART by Amanda Hocking
9781250084798
Available now
Ages 12 to 18
The first book in a brilliant new trade paperback YA fantasy duology by New York Times bestselling author Amanda Hocking. Valkyries have one great responsibility: to return immortals to the afterlife by slaying them. As a Valkyrie, Malin has always known that the balance of the world rests on her ability to carry out orders. But when Malin discovers that her mother spared the life of an immortal who was destined to die, her world is thrown into chaos.
"Hocking's series starter feels like a darker take on Rick Riordan's Magnus Chase and the Gods of Asgard series, immersed in Norse mythology and packed with action, romance, and fascinating creatures." —Booklist
FROM THE EARTH TO THE SHADOWS by Amanda Hocking
9781250084804
Available April 24, 2018
Ages 12 to 18
The adventure and romance continues in the final installment of the new fantasy duology by New York Times bestselling author Amanda Hocking. While dealing with dark revelations about her life and her world, Malin finds herself with new allies—and new enemies. Her quest for the truth leads her to places she never thought possible, and she's never been one to shy away from a fight. But for all her strength and determination, will it be enough to save the world before it's too late?
THIS HEART OF MINE by C.C. Hunter
9781250131652
Available February 27, 2018
Ages 13 to 19
A new heart saved her life—but will it help her find out what really happened to its donor? An artificial heart in a backpack is keeping seventeen-year-old Leah MacKenzie alive, which will only work for a few years. And with her rare blood type, a transplant isn't likely. Living like you are dying isn't all it's cracked up to be. But when a heart becomes available, she's given an amazing second chance at life. Then Leah discovers who the donor was—a boy from her school—and people are saying he killed himself. Plagued with unsettling dreams since the transplant, Leah realizes she may hold the clues to what really happened.
FADE TO US by Julia Day
9781250097378
Available February 6, 2018
Ages 12 to 18
FADE TO US is a story about found families, the bond of sisterhood, and the agony and awe of first love. When Brooke's new stepfather announces his daughter is moving in, Brooke is excited about spending more time with her stepsister, but she worries, too. Natalie has Asperger's—and Brooke's not sure how to be the big sister that Natalie needs. After Natalie joins a musical theater program, Brooke sacrifices her job to volunteer for the backstage crew. She's mostly there for Natalie, but Brooke soon discovers how much she enjoys being part of the show. When her summer comes to an end, will Brooke finally have the family she so desperately wants—and the love she's only dreamed about?
FLIGHT SEASON by Marie Marquardt
9781250107015
Available February 20, 2018
Ages 13 to 19
Vivi and TJ have returned from their first year of college and are both working in the heart ward of a university hospital, looking after Ángel Solís, the problem patient on the hall. As it turns out, though, Ángel has a thing or two to teach them about all their big plans, and the incredible moments when love gets in their way. Written in alternating first person from the perspectives of all three characters, FLIGHT SEASON is a story about discovering what's really worth holding onto, learning how to let go of the rest, and that one crazy summer that changes your life forever.
DREAM THINGS TRUE by Marie Marquardt (ages 13 to 18) will be available in trade paperback on February 20, 2018.
9781250135360
INDECENT by Corinne Sullivan
9781250147073
Available March 6, 2018
Ages 18 and up
Blurring the lines of blame and moral ambiguity, Corinne Sullivan's smart, sexy debut is perfect for fans of THE GIRLS, SWEETBITTER, and Barry Lyga's BOY TOY. When Imogene lands a job teaching at the Vandenberg School for Boys shortly after graduating college, she immediately accepts, despite having little teaching experience—and very little experience with boys. But then Imogene meets handsome, popular Adam Kipling a few weeks into her tenure and she's immediately drawn to him. As an obsessive, illicit affair begins between them, Imogene is so lost in the haze of first love that she's unable to recognize the danger she's in. The danger of losing her job. The danger of losing herself in the wrong person. The danger of being caught doing something possibly illegal and so indecent.
"Tense and surprising… an affecting novel, examining self-doubt, self-sabotage, and the lasting impact of both."—Publishers Weekly
"A good read for those who enjoy boarding school-based novels, including Jessica Anya Blau's THE TROUBLE WITH LEXIE, and Amy Poeppel's SMALL ADMISSIONS."—Library Journal
IN SIGHT OF STARS by Gae Polisner
9781250143839
Available March 13, 2018
Ages 12 to 18
IN SIGHT OF STARS is an emotional, full-hearted teen novel about love, loss, and mental health from award-winning author, Gae Polisner. When seventeen-year-old Klee's father dies, he's forced to move to the suburbs and live with his mother. Klee then meets Sarah in art class and it seems as if she's the only thing that makes him happy, until an act of betrayal sends him to a psychiatric hospital. Told in alternating timelines leading up to the event that gets him committed and working towards getting back out, this is a novel about what makes us fall apart and how we can put ourselves back together again.
THE DYSASTERS by P.C. Cast and Kristin Cast
9781250141040
Available Winter 2019
Ages 12 to 18
Also available in audio
House of Night meets X-Men in this exciting new series from #1 New York Times mother/daughter writing duo, P.C. Cast and Kristin Cast. Foster Stewart and Tate "Nighthawk" Taylor are special—between the two of them, they can talk to plants, control the clouds, and see perfectly in the darkest night. But when a deadly tornado strikes and awakens their two abilities, they must use their powers to stop Dr. Rick Stewart (who also happens to be Foster's father) from destroying their lives and the world.
SMOTHERED by Autumn Chiklis
9781250150493
Available May 1, 2018
Ages 13 to 18
A humorous debut crossover young adult novel about what happens when entering the "real world" means moving back in with your mother, inspired by actress and celebrity Autumn Chiklis' real life. SMOTHERED is a hilarious roman à clef told via journal entries, text messages, emails, bills, receipts, tweets, doctor's prescriptions, job applications and rejections, parking tickets, and pug pictures, chronicling the year that Lou moves back home after college. Told from Lou's point-of-view, SMOTHERED tells the story of two young(ish) women, just trying to get it right, and learning that just because we all grow up doesn't mean we necessarily have to grow old.
KISSING GAMES by Tara Eglington
9781250075260
Available June 5, 2018
Ages 13 and up
After a perfect first kiss, Aurora's second kiss lands her boyfriend in the hospital, and her matchmaking strategies start to backfire in this sequel to HOW TO KEEP A BOY FROM KISSING YOU. When Aurora's best friend decides to run for class president and offers up Aurora's matchmaking service as one of her campaign initiatives, the kissing games begin. Aurora has to convince everyone that her program works–but that might be hard to do when it seems like her own love life might be falling apart.
IF I WAS YOUR GIRL by Meredith Russo (ages 13 to 18)
will be available in trade paperback on June 26, 2018.
9781250078414
I'M NOT MISSING by Carrie Fountain
9781250132512
Available July 10, 2018
Ages 13 and up
Set in the desert city of Las Cruces, New Mexico, I'M NOT MISSING is the debut novel by an award-winning poet about a half-Latina girl stepping outside of the larger-than-life shadow of her best friend. When Miranda Black's mother abandoned her, she took everything—the sun, moon, and stars—and Miranda found shelter in her friendship with Syd, who wore her own motherlessness like a badge of honor. When Syd runs away suddenly and inexplicably in the middle of their senior year, Miranda is abandoned once again, left to untangle the questions of why Syd left and learning what it means to be truly seen, to be finally not missing in her own life.
STAR-TOUCHED STORIES by Roshani Chokshi
9781250180797
Available August 7, 2018
Ages 13 to 18
From the New York Times bestselling author of THE STAR-TOUCHED QUEEN comes three lush and adventurous stories in the Star-Touched World: Death and Night, a tale of a dangerous partnership between night incarnate and the Lord of Death; Poison and Gold, a story of battling insecurities and finding love; and Rose and Sword, a mysterious tale of a bride who loses her bridegroom on the eve of their wedding.
THE RAGING ONES by K.B. Ritchie
9781250128713
Available August 14, 2018
Ages 12 to 18
An edge of your seat sci-fi romance with twists and turns that you will never see coming! In a freezing world, where everyone knows the day they will die, three teens break all odds: Franny Bluefort, a tough city teen who dreams of a wealth she's never known; Court Icefort, a wealthy ex-prisoner who longs for a life beyond the world that imprisoned him; and Mykal Kickfall, a rugged Hinterlander who fights for those he loves. All three will have to hide their shared bond of having dodged their deathdays as they vie for a highly sought after spot in the newest mission to space. Against thousands of people far smarter, who'll live longer, and never fear death the way that they do.
Be on the lookout for these spectacular nonfiction titles!
HOW I RESIST by Tim Federle & Maureen Johnson
9781250168368
Available May 1, 2018
Ages 13 to 18
Also available in audio
An all-star collection of essays about activism and hope, edited by bestselling YA authors Tim Federle and Maureen Johnson. In HOW I RESIST, readers will find hope and support through voices that are at turns personal, funny, irreverent, and instructive. Not just for a young adult audience, this incredibly impactful collection will appeal to readers of all ages who are feeling adrift and looking for guidance. HOW I RESIST is the kind of book people will be discussing for years to come and a staple on bookshelves for generations.
EAT YOUR FEELINGS by Lindsey Smith
9781250139412
Available now
If you are feeling sad, stressed, exhausted, hangry, or bored, it's comforting to eat dishes you love and crave. In EAT YOUR FEELINGS, Lindsey Smith, the Food Mood Girl, blends food and humor to show how to make yummy meals and snacks with mood-boosting ingredients that are both physically and emotionally nourishing.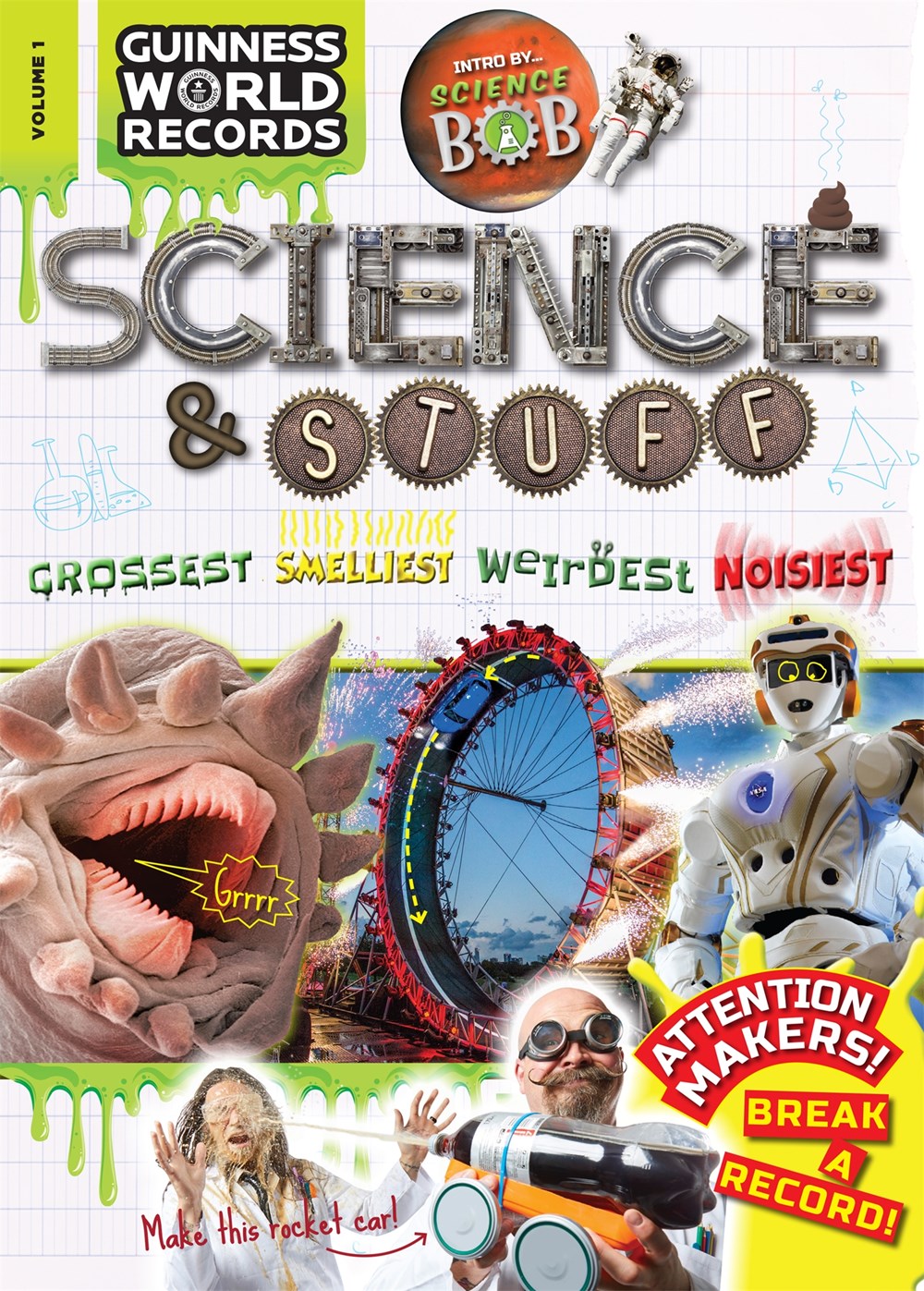 GUINNESS WORLD RECORDS: SCIENCE & STUFF
9781910561645
Available now
Ages 7 to 12
GUINNESS WORLD RECORDS: SCIENCE & STUFF is a whirlwind tour through the astounding, record-breaking world (and universe) around us. Perfect for curious minds, this book is a great addition to any 7-13 year old's library.
THE ARAB OF THE FUTURE 3 by Riad Sattouf
9781627793537
Available August 7, 2018
The Arab of the Future is the widely acclaimed, internationally bestselling graphic memoir that tells the story of Riad Sattouf's peripatetic childhood in the Middle East. In the third installment of the acclaimed series, the Sattouf family begins to implode under the pressure of Hafez al-Assad's regime and the suffocation of their rural Syrian village.
***
Don't miss these YA titles available from Entangled and Page Street!
PRETTY DEAD GIRLS by Monica Murphy
9781633758919
Available now
Ages 14 and up
BENEATH THE HAUNTING SEA by Joanna Meyer
9781624145346
Available now
Ages 12 and up
WICKED CHARM by Amber Hart
9781633758964
Available January 30, 2018
Ages 12 and up
ASSASSIN OF TRUTHS by Brenda Drake
9781633757387
Available February 6, 2018
Ages 14 and up
BY A CHARM AND A CURSE by Jaime Questell
9781633759008
Available February 6, 2018
Ages 14 and up
LIES THAT BIND by Diana Rodriguez Wallach
9781633759022
Available March 6, 2018
Ages 14 and up
RISEN by Cole Gibsen
9781633758933
Available March 6, 2018
Ages 14 and up
UNRAVELED by Kate Jarvik Birch
9781633759138
Available April 3, 2018
Ages 12 and up
ZOMBIE ABBEY by Lauren Baratz-Logsted
9781633759114
Available April 3, 2018
Ages 14 and up
SPIES, LIES, AND ALLIES by Lisa Brown Roberts
9781633756984
Available May 1, 2018
Ages 12 and up
THE QUEEN UNDERNEATH by Stacey Filak
9781624145605
Available May 8, 2018
Ages 18 and up
BRING ME THEIR HEARTS by Sara Wolf
9781640631465
Available May 15, 2018
Ages 12 and up
FIT TO DIE by Pintip Dunn
9781633752412
Available June 5, 2018
Ages 12 and up
FREQUENCY by Christopher Krovatin
9781640631816
Available June 5, 2018
Ages 14 and up
A ROYAL'S KISS by Lindsey Duga
9781640631830
Available July 3, 2018
Ages 12 and up
ALPHA by Jus Accardo
9781640631854
Available July 3, 2018
Ages 12 and up
PROJECT PROMETHEUS by Aden Polydoros
9781640631892
Available August 7, 2018
Ages 12 and up
ECHOES by Alice Reeds
9781640632479
Available August 7, 2018
Ages 12 and up
***
That's it for the books!
Thank you for reading about our featured teen titles coming in 2018. Don't forget to sign up for Edelweiss to download available e-galleys (instructions here) and check out our Edelweiss collection!