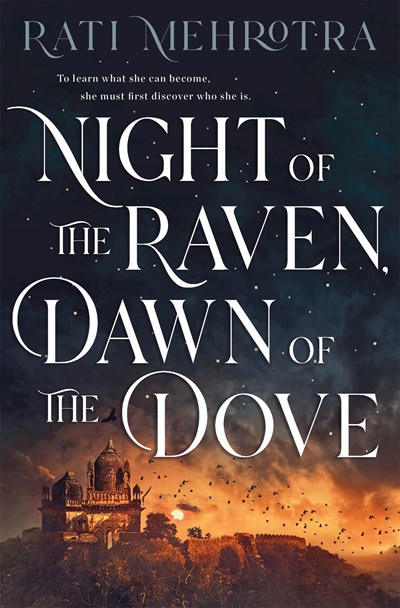 NIGHT OF THE RAVEN, DAWN OF THE DOVE by Rati Mehrotra
9781250823687
10/18/22
Wednesday Books
Ages 14-18
E-galley available on Edelweiss and NetGalley
Fiercely loyal to the royal family of Chandela and able to experience the queen's emotions through a forbidden soul bond that saved her life as a child, Katyani is the best guardswoman the Garuda has ever seen. After the latest assassination attempt against the royals leaves them with no leads, Katyani is shipped off to guard the princes as they undergo training at the esteemed Acharya Mahavir's school in nearby Nandovana, a forest infested with monsters. She chafes at the gender-specific rules there and the loss of her connection with the queen, but her interactions with the Acharya's son, Daksh, whom she finds infuriating and magnetic, provide some excitement.
Before the princes can finish their training, they are urgently summoned home, where unthinkable tragedy strikes. Katyani must fight her way through enemy forces and a tangled web of lies to find out who she really is and exact her revenge on those responsible for murdering the people she loves. In doing so, she discovers that the corruption and violence that has haunted the kingdom of Chandela runs deeper than she ever imagined.
This dark fantasy grabbed me from the very start and kept me turning the pages as fast as I could to find out what would happen next. It drops clues and builds tension like a mystery, sizzles with a slow-burn, forbidden romance, and doesn't pull any punches, even as the bodies accumulate. It will sweep you away to a world where vetalas lurk in mango trees, waiting to drink the blood of unsuspecting travelers, and yatu feast on human flesh. This is perfect for readers looking for a non-Euro-centric fantasy setting, as well as anyone who enjoyed the Sands of Arawiya duology by Hafsah Faizal or DEFY THE NIGHT by Brigid Kemmerer.
"Mehrotra smoothly incorporates worldbuilding into the atmospheric narrative, highlighting themes of family and justice with a timeless blend of adventure, mystery, and romance. A satisfying stand-alone with classic appeal." —Kirkus Reviews
Happy reading!
<3 Elizabeth
YA Resources:
2022 Books for Teens
Day's YA archives
2022 Adult Books for Teens