TO BE BORN OF THE FOREST IS A GIFT AND A CURSE.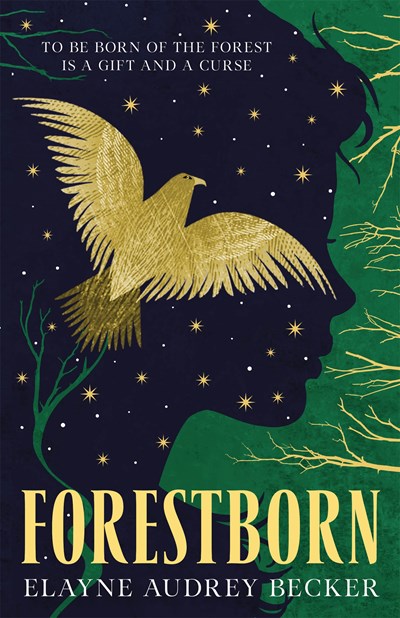 FORESTBORN by Elayne Audrey Becker
9781250752161
Available August 31, 2021 from Tor Teen
E-galley available on Edelweiss and NetGalley
Ages 13 to 18
Rora is a shapeshifter. As all magical beings born in the wilderness, she is feared. But the King sees something in Rora, and she uses her abilities to spy for him. Traveling under different guises, she searches the kingdom, listening for any signs of trouble. 
When a magical illness erupts throughout the kingdom, Rora quickly learns that the palace is not immune. Prince Finley, her only true friend, has caught it, too, and is gravely ill. In order to save her friend, she accepts the challenge to brave the dark, magical forest—the same forest she vowed to never return—in order to find stardust, Finley's only hope of survival. Stardust is the rarest form of magical elements that is found deep in the wilderness where Rora grew up.
For Finley, Rora would do anything. Alongside her brother and the stubborn older prince who insists on joining them, they embark on an epic journey, battling unknown creatures and an ever-changing landscape. Time is running out as more lives are being taken by the deadly illness, and the threat of war looms on the horizon.
Readers will be enchanted by Elayne Audrey Becker's stunning YA debut. With FORESTBORN, Becker introduces herself as a fresh, brilliant new voice in the fantasy genre. Rora's epic journey through the magical forest harkens back to classic fantasy stories like The Lord of the Rings—where the magical lands become a character in their own right. And Rora's tenacity to persevere despite her many hardships make her a compelling and relatable heroine. FORESTBORN is a story of friendship and hope, with a heavy dose of our favorite fantasy elements—action, magic, slowburn romance, and revenge—providing a timeless feel. Shelve FORESTBORN alongside YA fantasy favorite authors like Melissa Albert, Emily A. Duncan, and Brigid Kemmerer.
Praise for FORESTBORN:
"A fresh take on the best of classic fantasy."
—Katy Rose Pool, author of THERE WILL COME A DARKNESS
"The world building is breathtaking and the characters are complex and engaging. Highly recommended for readers who like an epic fantasy with heart and spirit."
—Juliet Marillier, author of the Sevenwaters and Warrior Bards series
"A tale that settles deep into the soul, a haunting love song to the dangerous splendor of the wild—and a testament to the power of friendship on the journey of grief and healing."
—Joanna Hathaway, author of DARK OF THE WEST
"The reader flies through Forestborn as Rora, the shape-shifting protagonist, sails over the treetops, powered by Becker's propulsively readable style."
—Sarah Kozloff, author of The Nine Realms series
Happy reading!
Anthony
---
You can find all of our 2021 Books for Teens here and the Day's YA archives here.