Today we spotlight the amazing Hank Phillippi Ryan, five-time Agatha Award-winning + bestselling author who continually has us on the edge of our seats with her twisty and chilling thrillers.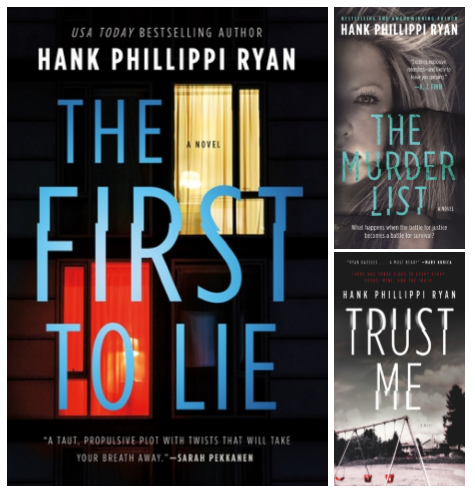 Her next standalone cat and mouse thriller features a devastating betrayal, a young woman on an obsessive path to justice, and nonstop twists and surprises.
"The breathlessly energetic plot touches on corporate intrigue, journalism ethics, revenge, and the corrosive nature of lies. Ryan could win a sixth Agatha with this one."–Publishers Weekly, starred review
Check out Ryan's other standalone novels:
"A compelling legal thriller from the popular author of the Jane Ryland mystery series, this will have readers' sympathies shifting from one character to another as it winds to an unsettling end."–Booklist
"This is the first stand-alone for Ryan, author of the Jane Ryland–Jake Brogan mystery series, and it's a knockout. Truth is elusive here, as the plot twists, driven by guilt and desperation, and tension grows. First-rate psychological suspense."–Booklist, starred review
And don't miss Hank Phillippi Ryan's Jane Ryland and Charlotte McNally series.
THE FIRST TO LIE by Hank Phillippi Ryan; 9781250258809; available now.
THE MURDER LIST by Hank Phillippi Ryan; 9781250224620; available now.
TRUST ME by Hank Phillippi Ryan; 9780765393098; available now.