They said she was a murderer.
They said she killed her sister.
But they lied.
That's the set up for Chevy Stevens' fourth terrific novel, THAT NIGHT, which is this week's Maximum Shelf Awareness feature.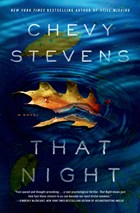 Toni Murphy was eighteen when she and her boyfriend, Ryan, were wrongly convicted of the murder of her younger sister. Now she is thirty-four and back in her hometown, working every day to forge and adjust to a new life on the outside. She's doing everything in her power to avoid violating her parole and going back to prison. But nothing is making that easy—not Ryan, who is convinced he can figure out the truth; not her mother, who clearly doubts Toni's innocence; and certainly not the group of women who made Toni's life miserable in high school and may have darker secrets than anyone realizes. Before Toni can truly move on, she must risk everything to find out the truth and clear her name.
"Foreshadowing and terrifying suspense are riveting in Stevens's sure hands; readers will want to keep all the lights on as THAT NIGHT moves into its final acceleration." — Shelf Awareness
See the full summary, review and interview with Chevy Stevens on Shelf-Awareness.com.
Available on NetGalley. To be pre-approved for an e-galley, please email library@macmillanusa.com with the subject "That Night."
"Stevens has crafted yet another suspenseful thriller with this tale of heartbreak, the cruelties of fate, and redemption… Stevens not only gives us a fresh perspective on the power adolescents hold over one another, but she also explores the way secrets can destroy lives. Fans of layered mysteries will love this novel as they try to guess the players in Nicole's death and try to figure out exactly what happened 'that night.' A compelling, exceptional read."
— Library Journal, starred review
"Stevens does an excellent job conveying Toni's near-constant state of unease—as a victim of teenage bullying, a prison inmate protesting her innocence, a parolee who's prohibited from coming in contact with the people who could clear her name. And she supplies a corker of an ending." — Booklist
"Riveting…an exciting page-turner with an incisive twist." — Publishers Weekly
"Stevens' storytelling skills are strong in her latest. She shows us the evil that women can wreak on each other, even in high school, and she paints a poisonous parent very well…readers will feel the heroine's youthful love and anguish, and root for and believe in her no matter what self-destructive things she does. Stevens continues to captivate…" — RT Book Reviews
THAT NIGHT will be available from St. Martin's Press on June 17.