"I had a desire to write about Wisconsin, about place, friendship, love." — Nickolas Butler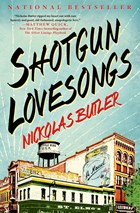 We're enamored with SHOTGUN LOVESONGS, Nickolas Butler's debut novel about the relationship between four friends living in a small Midwest town. Other are too: it was selected by the ABA for the Spring 2014 Indies Introduce program and is this week's Maximum Shelf Awareness feature.
Hank, Leland, Kip and Ronny were all born and raised in the small town of Little Wing, Wisconsin and are now coming into their own (or not) as husbands and fathers. One stayed while others left to make good, with varying degrees of success. Seamlessly woven into their patchwork is Beth, whose presence among them—both then and now—fuels the kind of passion one comes to expect of love songs and rivalries. Now all four have returned to Little Wing in hopes of finding their place in the world. SHOTGUN LOVESONGS explores the age-old question of whether or not you can ever truly come home again and the kind of steely faith and love returning requires.
"Butler's story of five 30-somethings seeking to make sense of how their future relates to their beginnings may focus on small town living, but it will resonate with anyone who ever struggled to reconcile dreams with financial security, true love with real life, and unwelcome changes with changes that never seem to come." — Shelf Awareness
See the full summary, review and interview with Nickolas Butler on Shelf-Awareness.com.
Get whitelisted and download your e-galley on Edelweiss. Or listen to a clip of the audiobook.
Then meet Butler at PLA 2014 in Indianapolis!

Praise for SHOTGUN LOVESONGS:
"A debut novel that delves so deeply into the small-town heartland... [SHOTGUN LOVESONGS] will strike a responsive chord in any reader who has found his life reflected in a Bob Seger song." — Kirkus Reviews, starred review
"The hearty Midwest, which thrums and beats through tiny Little Wing, Wisconsin—an Anytown, USA, if there ever was one—assumes the whole soul of Butler's fetching debut… Readers can feel the winter cold on the other side of the neon sign and hear the peanut shells crunching underfoot." — Booklist
"Butler uses multiple narrators to tell the story of a group of friends, born and raised in Little Wing, Wis.... Their voices and their memories create a rich, overlapping narrative that is, at bottom, a love letter to the Midwest and its small, mostly forgotten towns." — Publishers Weekly
"...this is a warm and absorbing depiction of male friendship. Lee and Hank's compassion toward Ronny is particularly touching, and Beth, the sole female narrator, is as nuanced and believable a character as her male counterparts. With the author's connection to indie musician Bon Iver and a movie deal already in the works, expect interest and demand." — Library Journal
SHOTGUN LOVESONGS will be available from Thomas Dunne Books and Macmillan Audio on March 11.