I assume you're all subscribed to Shelf Awareness, the insightful daily newsletter that collects all sorts of good info on day-to-day publishing happenings, but just in case you're not, allow me to swivel your neck in their direction like the literary chiropractor I am. Boom: Shelf-Awareness.com.
Shelf Awareness also has a newsletter dedicated entirely to one title that they deem "a great handselling opportunity" called Maximum Shelf (full disclosure: we sponsor the issues with our books). Today's Maximum Shelf featured a book that we're all very excited about: CLOSE MY EYES by Sophie McKenzie.
EarlyWord Galley Chatters may remember that this is the title that Robin Beerbower of Salem Public raved about across the entire cover of the galley!!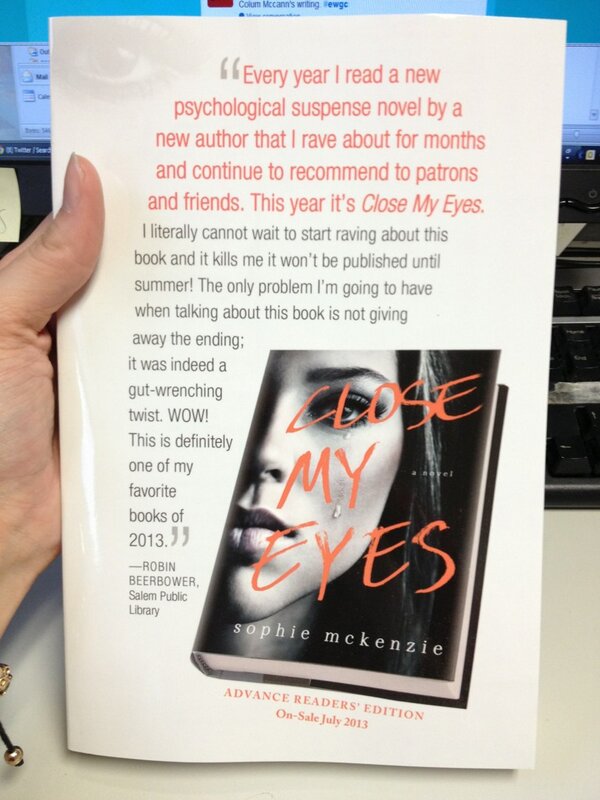 The Maximum Shelf delivers the full scoop about McKenzie's incredible U.S. debut.
"[CLOSE MY EYES is] a fast-moving tale of psychological suspense full of twists and genuine surprises. While comparisons have been made to Gillian Flynn's GONE GIRL, McKenzie's page-turner is more reminiscent of the creepy Gaslight, the 1944 film that so powerfully depicted a terrorized woman it led to the term 'gaslighting,' a form of mental abuse wherein the victim is made to believe she is going insane..."
They've also included a great interview with author Sophie McKenzie about how she went about writing her first novel for adults.
Head on over to Shelf-Awareness.com now to learn more about CLOSE MY EYES!
CLOSE MY EYES will be available to seriously creep you out come July from St. Martin's Press.