Hello, friends! We hope you had a lovely Independence Day weekend and are recovered from ALA Annual. Going back to work after a holiday is always a bummer, but we've got several great books that will put you in a

paws-itively

better mood! #meow
THE WORLD ACCORDING TO BOB: The Further Adventures of One Man and His Streetwise Cat by James Bowen
In the follow up to the instant New York Times bestseller A STREET CAT NAMED BOB, "Bowen has crafted a terrific sequel to an amazing and inspiring story that's just beginning." — Publishers Weekly, starred review
OFF THE LEASH by Matthew Gilbert
"Dog enthusiasts will flock to this entertaining account of an unlikely canine lover's ascent into full-fledged member of the neighborhood dog-park club. Gilbert is an adept storyteller, adding just enough intrigue (dog-on-doggie aggression, an attempt at person-on-person romance, the unfortunate realities of humping) to keep the pages turning." — Publishers Weekly
HAATCHI & LITTLE B: The Inspiring True Story of One Boy and His Dog by Wendy Holden
This book tells the amazing true story of a disabled boy who has a very special relationship with a three-legged rescue dog. The Today Show picked it as one of its "11 books to put on your summer reading list" and Parade.com featured an excerpt from the book.
THE OWL WHO LIKED SITTING ON CAESAR by Martin Windrow
"Anyone who thinks the bond between man and dog or cat is the supreme human-house pet attachment will have to reconsider after reading Martin Windrow's touching account of the bird who changed his life, a possessive and characterful tawny owl named Mumble who was his domestic companion for 15 action-packed years…." — Liesl Schillinger, The New York Times Book Review
THE BEST CAT BOOK EVER by Kate Funk
You know we looooove this book. Here's one more reason why.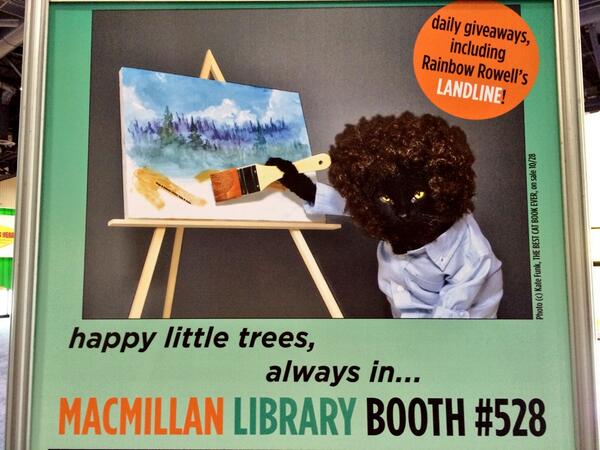 Speaking of animals, did you know that Picador has a monthly newsletter called "Ahead of the Bull"? They do! You can sign up here to receive it in addition to all the Macmillan Library goodness we send each month.