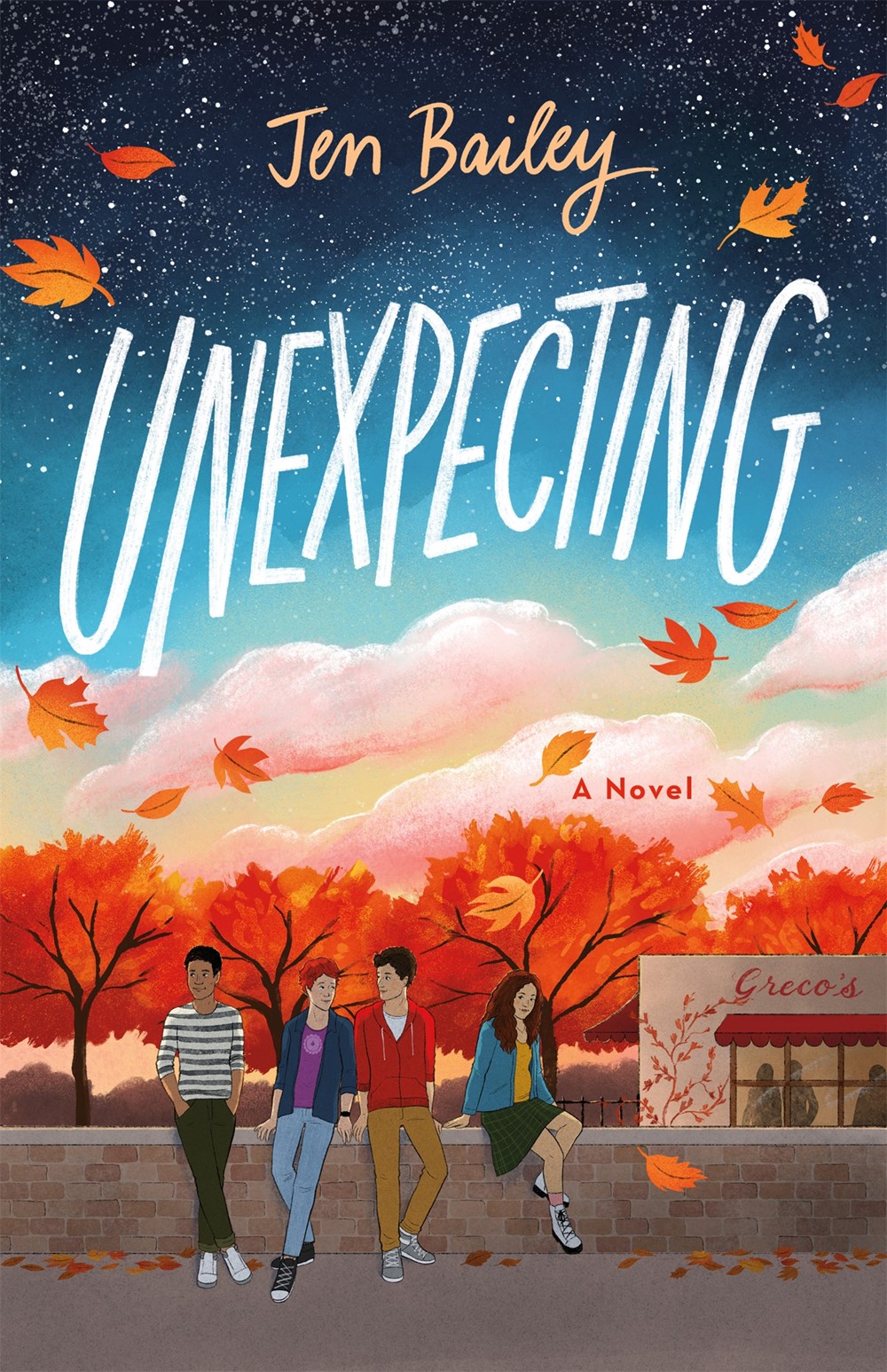 UNEXPECTING by Jen Bailey
9781250780942
Wednesday Books
8/22/23
Ages 13-18
E-galley available on Edelweiss and NetGalley
Benjamin Morrison is content with his life, even if it's not perfect. Sure, he's got a complicated relationship with his mom and her 4 ex-husbands, and he never got a chance to meet his dad before he died, but he's about to start his junior year of high school, he just came out as gay, and he's got a plan for the future. He and his best friends, Maxie and Mo, are going to help their robotics club win nationals this year, which will get him accepted into the esteemed Jacques de Vaucanson Summer Academy, and then they are all going to get full rides to MIT and start the next chapter of their lives in Boston. But all these plans come crashing down when an experiment with Maxie at science summer camp has unexpected consequences.
Ben got Maxie pregnant—and while she wants to put the baby up for adoption, Ben wants to raise the baby as his own. His mother is taken aback by his decision to raise the baby as a single teenage father—especially after coming out as gay—but she is supportive and decides to help him prepare for fatherhood and fight for his right to raise the baby. However, the weight of his decision takes a toll on Ben's life—his grades suffer, his relationships falter, and he struggles with the fear of letting his child down. Amidst the daily ridicule at school and the strain on his closest friendships, Benjamin finds solace—and potentially something more—with a boy from his past. With each new challenge and sacrifice, Benjamin begins to question the path he has chosen. He carries a longing in his heart for the presence of a father figure, and the fear of subjecting his own child to a similar void reinforces his determination to be present in their life. However, when the safety of the baby is at stake, Benjamin faces a heart-wrenching realization: sometimes, being a parent means making difficult choices, even if they are choices you never wanted to make.
This is a heartwarming and poignant coming-of-age tale, reminiscent of Juno and Heartstopper. While there is a subtle and sweet queer romance in the story, the theme of family—both found and biological—takes center stage as Jen Bailey explores what it means to be a parent. The relationship Ben has with his mom is touching and Ben's lack of a solid father figure resulting in his feeling of incompleteness is something that many readers can relate to. Ben is such a loveable character, and I couldn't help but root for him the entire way. If you love TV shows like Heartstopper and Love, Victor and authors like Dahlia Adler and Casey McQuiston, then this book is for you!
Happy reading!
<3 Amanda
YA Resources:
2023 Books for Teens
Day's YA Archives
2023 Adult Books for Teens