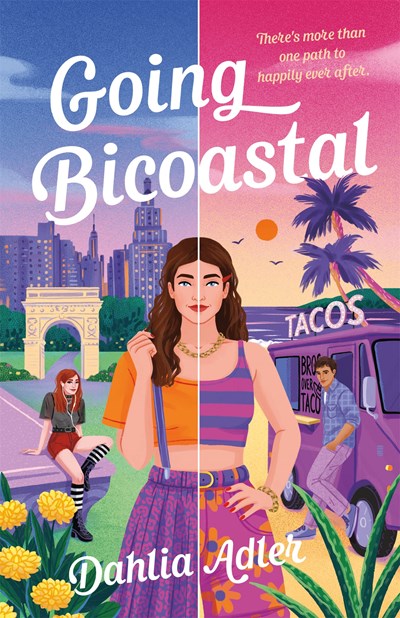 GOING BICOASTAL by Dahlia Adler
9781250871640
6/13/2023
Wednesday Books
Ages 13-18
E-galley available on Edelweiss and NetGalley
Natalya Fox has a big decision to make. She can either spend her summer in New York with her dad, or in Los Angeles with her mom. But there's a lot to factor in. She already lives with her dad and is comfortable with him, while her mom left years ago and they barely talk these days. Also New York has "the Redhead," the pretty girl that Natalya is always bumping into but has never been able to muster up the courage to say hi to. But who knows who she might meet in Los Angeles. And being in LA would give her a chance to fix her relationship with her mom. It's simply too complicated to make a decision, so…she doesn't. Instead, both timelines play out side-by-side in this queer Sliding Doors-inspired rom-com.
In NYC, Natalya spends the summer researching for her math professor father, babysitting, and—finally—hanging out with the Redhead (AKA Elly). And in LA, Natalya interns at her mom's office, where she meets Adam, her co-intern and possibly the only person on earth who could make her forget about the Redhead. In both timelines, Natalya works on mending things with her mom, falls in love, makes plans for her future, and has a truly unforgettable summer. And (no spoilers) the ending is satisfying no matter which version of Natalya's love life you're rooting for.
This bisexual two-for-the-price-of-one rom-com is the summer book of my dreams. Despite each storyline getting half the real estate of a typical book, they're both fully fleshed out and completely engaging, and both romances are sweet and swoony. If you loved the chaotic bi energy in PERFECT ON PAPER by Sophie Gonzales and the endearing family relationships in YOU HAVE A MATCH by Emma Lord, GOING BICOASTAL is the perfect mash-up of those two, with its own incredibly fun, unique twist. Plus, if you read and loved COOL FOR THE SUMMER (like I did) and are wondering what Jasmine and Lara have been up to, you'll find out in this book. Dahlia Adler remains the reigning Queen of Queer Rom-Coms. 
"A sweet and joyful romance times two." —Kirkus Reviews
Happy reading!
<3 Emily
YA Resources:
2023 Books for Teens
Day's YA Archives
2023 Adult Books for Teens