Happy Friday, YA pals!
This month's theme of "books in translation" continues with a sweet French romance…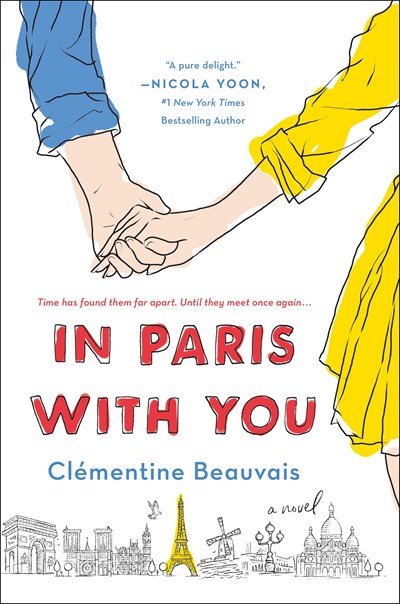 IN PARIS WITH YOU by Clémentine Beauvais
9781250299161
Ages 14 to 18
Available January 8, 2019 from Wednesday Books
When teenagers Tatiana and Eugene meet during a Paris summer in the suburbs, she is reading Jane Austen in her garden and he is a mysterious (and pompous!) visitor next door. Tatiana is instantly captivated and the pair summer in close proximity without ever fully connecting.
Fast forward ten years. Tatiana and Eugene, living their own very separate lives, run into each other on the Metro. As they slowly reconnect, the two find their roles somewhat reversed. Eugene is now the one overcome with feelings.
Will they be able to put their past behind and start anew?
This fun read was charming and humorous. Beauvais' verse is incredible. The occasional rhymes are subtle and you may miss them if you're not paying attention. And the delightfully satisfying ending is authentic without being predictable. This beautiful tale is ideal for anyone who enjoys their rom-coms sweet, but realistic (think ONE DAY meets ELEANOR & PARK meets I SEE LONDON, I SEE FRANCE).
Happy reading!
<3 Emily
Day's YA Archives:

WONDERFUL FEELS LIKE THIS by Sara Lövestam (posted 10/11/2018)
TEEN TRAILBLAZERS by Jennifer Calvert, illus. by Vesna Asanovic (posted 9/26/2018)
AFTERCARE INSTRUCTIONS by Bonnie Pipkin (posted 9/14/2018)
FLIGHT SEASON by Marie Marquardt (posted 8/23/2018)
UNSTOPPABLE MOSES by Tyler James Smith (posted 8/9/2018)
I DO NOT TRUST YOU by Laura J. Burns & Melinda Metz (posted 7/25/2018)
SADIE by Courtney Summers (posted 7/12/2018)
MIRAGE by Somaiya Daud (posted 6/28/2018)
LEGENDARY by Stephanie Garber (posted 6/15/2018)
THE RAGING ONES by Krista & Becca Ritchie (posted 5/17/2018)
DEAR READER by Mary O'Connell (posted 5/9/2018)
FANGIRL by Rainbow Rowell (posted 4/26/2018)
THIS HEART OF MINE by C.C. Hunter (posted 4/13/2018)
I'M NOT MISSING by Carrie Fountain (posted 3/30/2018)
CHOOSE WONDER OVER WORRY by Amber Rae (posted 3/15/2018)
GIRLS MADE OF SNOW AND GLASS by Melissa Bashardoust (posted 3/1/2018)
IN SIGHT OF STARS by Gae Polisner (posted 2/15/2018)
BRING ME THEIR HEARTS by Sara Wolf (posted 2/1/2018)
CARAVAL by Stephanie Garber (posted 1/18/2018)
HOW I RESIST by Maureen Johnson (posted 1/4/2018)
13 MINUTES by Sarah Pinborough (posted 12/21/2017)
I HATE EVERYONE BUT YOU by Gaby Dunn and Allison Raskin (posted 12/6/2017)
SKY IN THE DEEP by Adrienne Young (posted 11/28/2017)