Happy Friday! Today's #FridayReads are two fractured fairy tales:
Talia is enchanted by Kate Forsyth's BITTER GREENS

This historical novel gorgeously interweaves the Rapunzel fairy tale with the true life story of French novelist Charlotte-Rose de la Force. This sumptuous novel holds the stories of three women, braided together to create a compelling tale of desire, black magic and the redemptive power of love.
"Kate Forsyth's BITTER GREENS is an enthralling concoction of history and magic, an absorbing, richly detailed, and heart-wrenching reimagining of a timeless fairytale." — Jennifer Chiaverini, New York Times bestselling author of MRS LINCOLN'S RIVAL

Anne's looking for Neverland after reading ALIAS HOOK by Lisa Jensen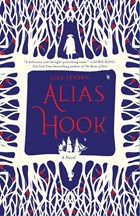 In this retelling of the Captain Hook story, the pirate from Peter Pan is cursed to be the villain. Hook's one hope for redemption comes in the form of Stella Parrish, a grown woman who dreams her way to the Neverland in defiance of Pan's rules. It's perfect for fans of Gregory Maguire and Paula Brackston.
"Jensen's wonderful imagination and devotion to history and myth allow the reader to fly with her through this outstanding adventure—no fairy dust required." — Publishers Weekly