Articles tagged
"THE TRUE TAILS OF BAKER & TAYLOR: The Library Cats Who Left Their Pawprints on a Small Town… and the World"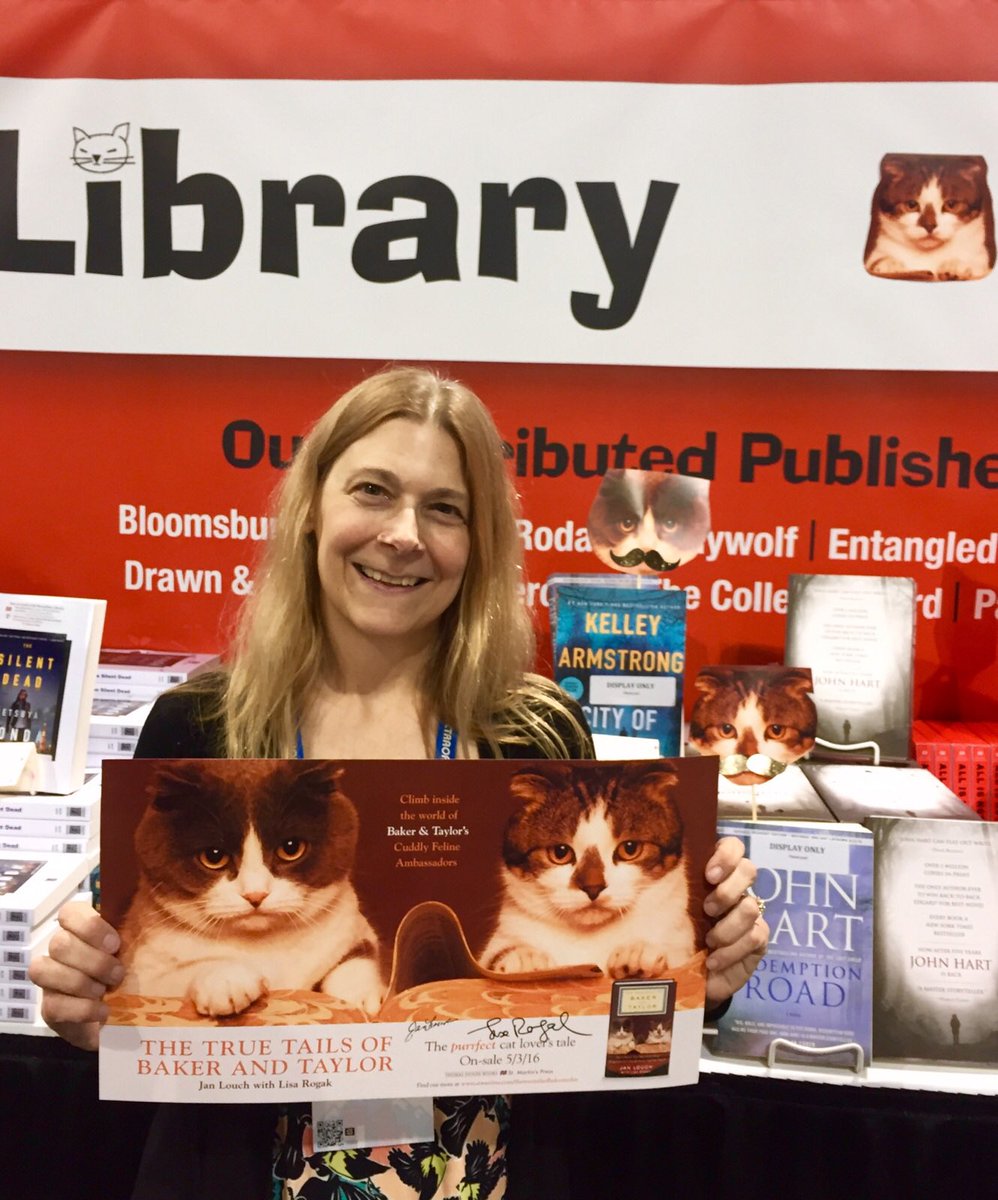 We're happy to send off National Library Week tomorrow with a purrfect Caturday (that's what we call Saturday snuggling with kitties) book: THE TRUE TAILS OF BAKER & TAYLOR: The Library Cats Who Left Their Pawprints on a Small Town…and the World by Jan Louch & Lisa Rogak.
It all started with mice in the library. Assistant librarian Jan Louch and a coworker found a pair of Scottish Folds who were perfect for the job. Jan named them Baker and Taylor, they took up residence in the library, and the rest is history.
Now you can have Baker & Taylor too, with a free poster (while supplies last)! Simply email library@macmillanusa.com (subject: True Tails of Baker and Taylor) from your professional/library-issued e-mail address and make sure to include your library's mailing address.
We've also got 5 clever #librarycatproblems e-cards for you to download and share. Simply click on the image to open the full-size version in a new tab, then right-click on each picture and save to your computer!
Download, read, and nominate your favorite titles for the May 2016* LibraryReads list!
*Nominations are due March 20! Click here for the full list of 2016 deadlines.
REDEMPTION ROAD by John Hart
In New York Times bestselling author Hart's highly anticipated Southern gothic thriller, a troubled detective must confront her past in the aftermath of a brutal shooting. Meanwhile, a former cop walks free after 13 years in prison—is he responsible for what happened at the abandoned church deep in the forest? "[Calling it a] thriller doesn't do full justice to the book at all. Great for literary and thriller lovers alike." — Kellie Currie, Delphi Public Library, Delphi IN
Download the e-galley from Edelweiss

CITY OF THE LOST by Kelley Armstrong
Casey Duncan is a homicide detective with a secret: when she was in college, she killed a man. She was never caught, but he was the grandson of a mobster and she knows this crime will catch up to her. On the run now, Casey finds refuge in an off-the-grid town harboring those wishing to disappear, but the town has its own dark secrets. "At heart this is a blood-soaked, locked-room mystery on steroids; readers should prepare for an all-nighter to finish it." — Booklist
Available on NetGalley or request a print galley. To be pre-approved for an e-galley, please email library@macmillanusa.com with the subject "City of the Lost."*
THE CHILDREN by Ann Leary
From New York Times bestselling author Leary comes the captivating story of a wealthy, but unconventional New England family, told from the perspective of a reclusive 29-year-old who has a secret (and famous) life on the Internet.
Download the e-galley from Edelweiss