Articles tagged
"Jennifer Chiaverini"
Happy #BookBday to these top-notch new releases!
HOW HARD CAN IT BE? by Allison Pearson
Also available in audio
A June 2018 LibraryReads pick with THREE starred reviews! Hilarious and poignant, the new adventures of Kate Reddy, the beleaguered heroine of Allison Pearson's groundbreaking New York Times bestseller I DON'T KNOW HOW SHE DOES IT. "Tackling sexism, growing older, and understanding one's needs when catering to those of so many others, Pearson writes realism with all the fun of escapism." — Booklist, starred review
KUDOS by Rachel Cusk
One of Publishers Weekly's Spring 2018 Literary Fiction picks with THREE starred reviews! The critically acclaimed author of OUTLINE and TRANSIT, completes her "stunning" (Publishers Weekly, starred review) trilogy with a finale that examines the relationship between pain and honor, and investigates the moral nature of success as a precept of both art and living. "Brilliantly accomplished and uncompromisingly dark." — Kirkus Reviews, starred review
TREEBORNE by Caleb Johnson
THREE starred reviews! "Using language rich as mulch, debut author Johnson tells the superb saga of three generations of Treebornes, who live near the town of Elberta in the southern reaches of Georgia. Sentence by loamy sentence, this gifted author digs up corpses and upends trees to create a place laden with magic and memory." — Publishers Weekly, starred review and editor's pick readmoreremove
Happy Friday! Today's #FridayReads are two fractured fairy tales:
Talia is enchanted by Kate Forsyth's BITTER GREENS

This historical novel gorgeously interweaves the Rapunzel fairy tale with the true life story of French novelist Charlotte-Rose de la Force. This sumptuous novel holds the stories of three women, braided together to create a compelling tale of desire, black magic and the redemptive power of love.
"Kate Forsyth's BITTER GREENS is an enthralling concoction of history and magic, an absorbing, richly detailed, and heart-wrenching reimagining of a timeless fairytale." — Jennifer Chiaverini, New York Times bestselling author of MRS LINCOLN'S RIVAL

Anne's looking for Neverland after reading ALIAS HOOK by Lisa Jensen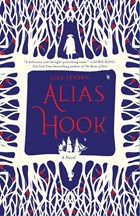 In this retelling of the Captain Hook story, the pirate from Peter Pan is cursed to be the villain. Hook's one hope for redemption comes in the form of Stella Parrish, a grown woman who dreams her way to the Neverland in defiance of Pan's rules. It's perfect for fans of Gregory Maguire and Paula Brackston.
"Jensen's wonderful imagination and devotion to history and myth allow the reader to fly with her through this outstanding adventure—no fairy dust required." — Publishers Weekly