We are Macmillan Library!
Are you a librarian? Awesome!
We are here to help.

If you've ever given in to a craving for junk food (helloooo cupcakes!) because you were happy / sad / stressed / bored / hangry and then immediately felt bad about it, then Lindsey Smith, the Food Mood Girl, is here to help.
In EAT YOUR FEELINGS: The Food Mood Girl's Guide to Transforming Your Emotional Eating, Smith shares how to make yummy, nourishing meals and snacks based on what people tend to crave the most during heightened emotional states. Blending food and humor (just look at those adorable Emoji Chocolates!), this is a lighthearted take on your typical diet book.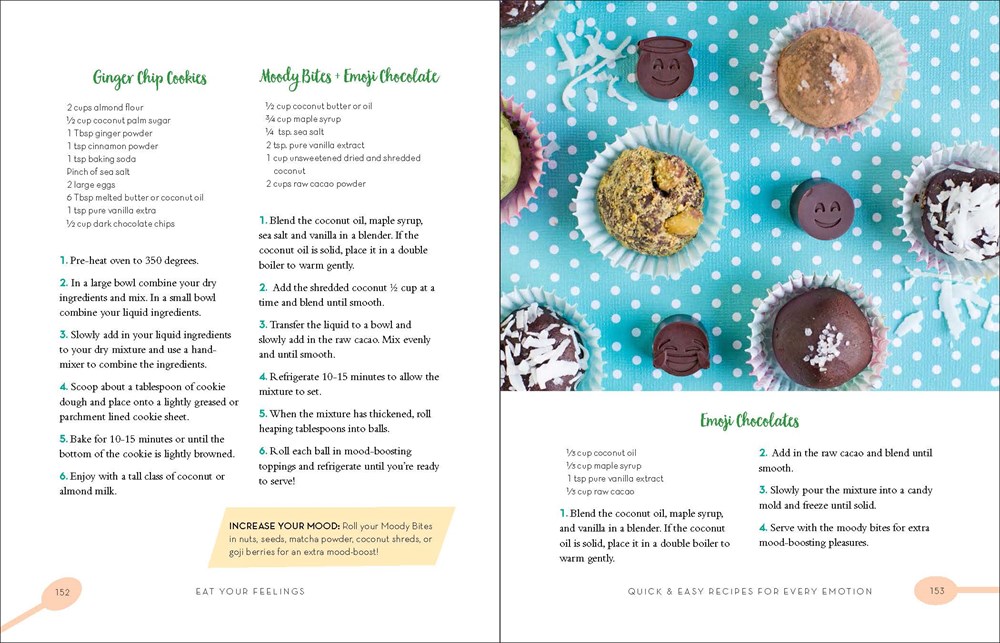 We're giving away advanced readers copies of EAT YOUR FEELINGS to you, lovely librarians!*
For your copy, email Library@MacmillanUSA.com from your professional/library-issued e-mail address (subject: Eat Your Feelings) and make sure to include your library's mailing address. readmoreremove
MR. DICKENS AND HIS CAROL: A Novel of Christmas Past by Samantha Silva
Shakespeare in Love meets A Christmas Carol in this debut novel set as Charles Dickens writes his beloved classic. "With the wit and sprightly tone of a classic storyteller, Silva presents a heartwarming tale of friendship and renewal that's imbued with the true Christmas spirit." — Booklist
THE WINE LOVER'S DAUGHTER: A Memoir by Anne Fadiman
With all her characteristic wit and feeling, celebrated essayist Fadiman examines her relationship with her father, Clifton Fadiman, a renowned literary critic, editor, and radio host whose greatest love was wine. "In this crisp, scintillating, amusing, and affecting memoir, Anne incisively and lovingly portrays her brilliant and vital father and brings into fresh focus the dynamic world of twentieth-century books and America's discovery of wine." — Booklist, starred review
Happy Friday! New York Comic Con is this weekend and we're getting in the spirit with these new & forthcoming graphic novels:
GOING INTO TOWN: A Love Letter to New York by Roz Chast
From the #1 New York Times bestselling author of CAN'T WE TALK ABOUT SOMETHING MORE PLEASANT?, Roz Chast's new graphic memoir—a hilarious illustrated ode/guide/thank-you note to Manhattan. "Chast's voice and vision make this a singular love letter to a singular city." — Kirkus Reviews, starred review
BAKING WITH KAFKA by Tom Gauld
A best-of collection of literary humour cartoons from the critically-acclaimed Guardian cartoonist. "The art is dominated by shadowy stick figures that inhabit often complex spaces, which somehow makes it all the more droll." — Publishers Weekly
VERAX: The True History of Whistleblowers, Drone Warfare, and Mass Surveillance: A Graphic Novel by Pratap Chatterjee & Khalil Bendib
In a sweeping graphic history, VERAX ("truth-teller" and one of Edward Snowden's code names) recounts the full story of American electronic surveillance post 9/11, in brilliant comics form. "An accessible book that sounds the alarm on how modern technology can be used by the government against its citizenry." — Kirkus Reviews readmoreremove
Here are the 2018 LibraryReads monthly list nomination deadlines:
Nominations for January 2018 LibraryReads list titles (this includes December 2017 AND January 2018 titles) are due November 20, 2017
Nominations for February 2018 LibraryReads list titles are due December 20, 2017
Nominations for March 2018 LibraryReads list titles are due January 20, 2018
Nominations for April 2018 LibraryReads list titles are due February 20, 2018
Nominations for May 2018 LibraryReads list titles are due March 20, 2018
Nominations for June 2018 LibraryReads list titles are due April 20, 2018
Nominations for July 2018 LibraryReads list titles are due May 20, 2018
Nominations for August 2018 LibraryReads list titles are due June 20, 2018
Nominations for September 2018 LibraryReads list titles are due July 20, 2018
Nominations for October 2018 LibraryReads list titles are due August 20, 2018
Nominations for November 2018 LibraryReads list titles are due September 20, 2018
Remember you can read in any format you like (print or e-) but please submit your votes via Edelweiss and NetGalley.
Wondering what this is all about? Read our LibraryReads FAQ to become an instant expert!
Cosmic horror! Agatha Raisin! Murder in a brewery! Here's what we're reading this #ThrillerThursday:
WHAT THE HELL DID I JUST READ by David Wong
"Wong's wildly mind-bending third installment (after THIS BOOK IS FULL OF SPIDERS) of the adventures of protagonist David Wong is filled with the humorous horror readers have come to expect. While the story gleefully wallows in absurdity, thoughtful themes of addiction, perception, and the drive to do the right thing quickly emerge beneath the vivid and convoluted imagery. The plot's rapid pace holds the reader's attention to the truly bitter end." — Publishers Weekly, starred review
OLD SCORES by Will Thomas
When a Japanese diplomat is murdered and Cyrus Barker is the prime suspect, Barker and sidekick Llewelyn must work against the clock to find the real killer. "Series fans will rejoice to learn more about Barker, whose past life has thus far been murky. As always, the author draws out personalities to enlighten and entertain: even the dog, Harm, comes to life, along with inimitable servant Mac, the short-lived victim, and the series leads, who change with experience." — Booklist, starred review
THE WITCHES' TREE by M.C. Beaton
New York Times bestseller M. C. Beaton's cranky, crafty Agatha Raisin—now the star of a hit T.V. show—is back on the case for the series's 25th anniversary. "The usual cast of characters is present in this humorous cozy, which is sure to please Agatha's fans and those who love village mysteries." — Booklist
DEATH ON TAP by Ellie Alexander
A new hardcover cozy series set in a microbrewery in Leavenworth, WA, featuring a likeable sleuth and plenty of delicious food and drink (and murder, of course). "The author of the 'Bakeshop' mysteries (A CRIME OF PASSION FRUIT) introduces a new series with likeable characters, an atmospheric small-town setting, and a quirky adversary for the amateur sleuth. The engaging premise and pairings of beer and food should appeal to fans of Avery Aames's 'Cheese Shop' titles." — Library Journal readmoreremove
Lovely librarians, it's time to choose your favorite 2017 LibraryReads titles!
From now through October 15, public library staff are invited to vote for their favorites books from the "Favorite of Favorites" longlist (all LibraryReads titles from the October 2016 through September 2017 lists). Remember, anybody who works in a public library in the United States can vote in this poll!
There will be two rounds of voting before the final list is announced. Here's the "Favorite of Favorites" voting timeline:
October 15: "Favorite of Favorites" longlist votes due
October 20: "Favorite of Favorites" shortlist votes open
December 1: "Favorite of Favorites" list released
Thanks for supporting LibraryReads and keep reading and nominating! (Here's what we suggest for the January 2018 list; votes due November 20.)
My name is Amber Reynolds. There are three things you should know about me:
1. I'm in a coma.
2. My husband doesn't love me anymore.
3. Sometimes I lie.
This is how Alice Feeney's debut novel, SOMETIMES I LIE, starts. And fans of psychological thrillers won't be able to stop reading after that, according to Maximum Shelf Awareness (and librarian fans on #ewgc!).
Amber wakes up in a hospital. She can't move. She can't speak. She can't open her eyes. Though she can hear everyone around her, no one knows because she's in a coma. But she doesn't remember what happened. And she has a sneaking suspicion her husband had something to do with it. Alternating between her paralyzed present, the week before her accident, and a series of childhood diaries from twenty years ago, the narratives build and collide for an ending that leaves readers speechless.
"SOMETIMES I LIE is meticulously plotted, deliciously twisty and gripping to the very end." — Shelf Awareness
See the full summary, review and interview with Alice Feeney on Shelf-Awareness.com. readmoreremove
Happy #BookBday to these outstanding new releases!
FRESH COMPLAINT by Jeffrey Eugenides
Longlisted for the 2018 Andrew Carnegie Medal for Excellence in Fiction, plus two starred reviews! "These stories skillfully explore the often elusive quest for happiness and self-knowledge, along with the many complexities that attend relationships with family, friends, and lovers. Essential for all fans of literary fiction." — Library Journal, starred review
HER BODY AND OTHER PARTIES by Carmen Maria Machado
Longlisted for the 2017 National Book Award in Fiction, the #1 October 2017 Indie Next pick, one of Kirkus's "Fiction Debuts & Breakthroughs That Live up to the Hype," and two starred reviews! "Machado creates eerie, inventive worlds shimmering with supernatural swerves in this engrossing debut collection. Her stories make strikingly feminist moves by combining elements of horror and speculative fiction with women's everyday crises… Machado's slightly slanted world echoes our own in ways that will entertain, challenge, and move readers." — Publishers Weekly, starred & boxed review
THE STOLEN MARRIAGE by Diane Chamberlain
An October 2017 LibraryReads pick! As young nurse Tess works to save the lives of her polio-stricken patients, she must untangle her husband's mysterious behavior. "Combines the issue-driven style of Jodi Picoult, the romantic tension of Nora Roberts, and the life-defining-mistake motif of Amy Hatvany's IT HAPPENS ALL THE TIME." — Booklist
THE ORPHAN OF FLORENCE by Jeanne Kalogridis
In this irresistible historical novel set in the turbulent world of the Medicis, a young woman finds herself driven from pick-pocketing to espionage when she meets a mysterious man. "Betrayal, magic, and murder drive the brisk pace and create a dark atmosphere of uncertainty. Kalogridis' clever inclusion of historical detail brings Florence to life (as she did in THE DEVIL'S QUEEN, 2009), while characters shift alliances, becoming ever more treacherous and violent." — Booklist, starred review
LONDON AND THE SOUTH-EAST by David Szalay
Never before published in the United States, the debut novel by the wildly talented author of Man Booker Prize finalist ALL THAT MAN IS. "Written with intense psychological acuity and inventive detail, the author turns a humdrum account of male malaise into an experience far more affecting—and universal—than it has any right to be." — Publishers Weekly
Does your library have copies of these new books from these two bestselling authors? (You should!)
FRESH COMPLAINT by Jeffrey Eugenides
"Pulitzer Prize–winning Eugenides' first story collection, and his first book since THE MARRIAGE PLOT, is gifted with the strong voices and luminous prose his novels are known for. Readers will enjoy lamenting that this complete and utterly human collection must, after all, end." — Booklist, starred review
"These stories skillfully explore the often elusive quest for happiness and self-knowledge, along with the many complexities that attend relationships with family, friends, and lovers. Essential for all fans of literary fiction." — Library Journal, starred review
THE SHADOW DISTRICT by Arnaldur Indridason
"Indridason provides a great window into Icelandic culture as he explores his recurring themes of greed and abuse of power." — Publishers Weekly, starred review readmoreremove