We are Macmillan Library!
Are you a librarian? Awesome!
We are here to help.

Happy Friday, fellow book-lovers!
We're ending this week with a fun, honest, patriarchy-smashing take on coding and the birds & the bees!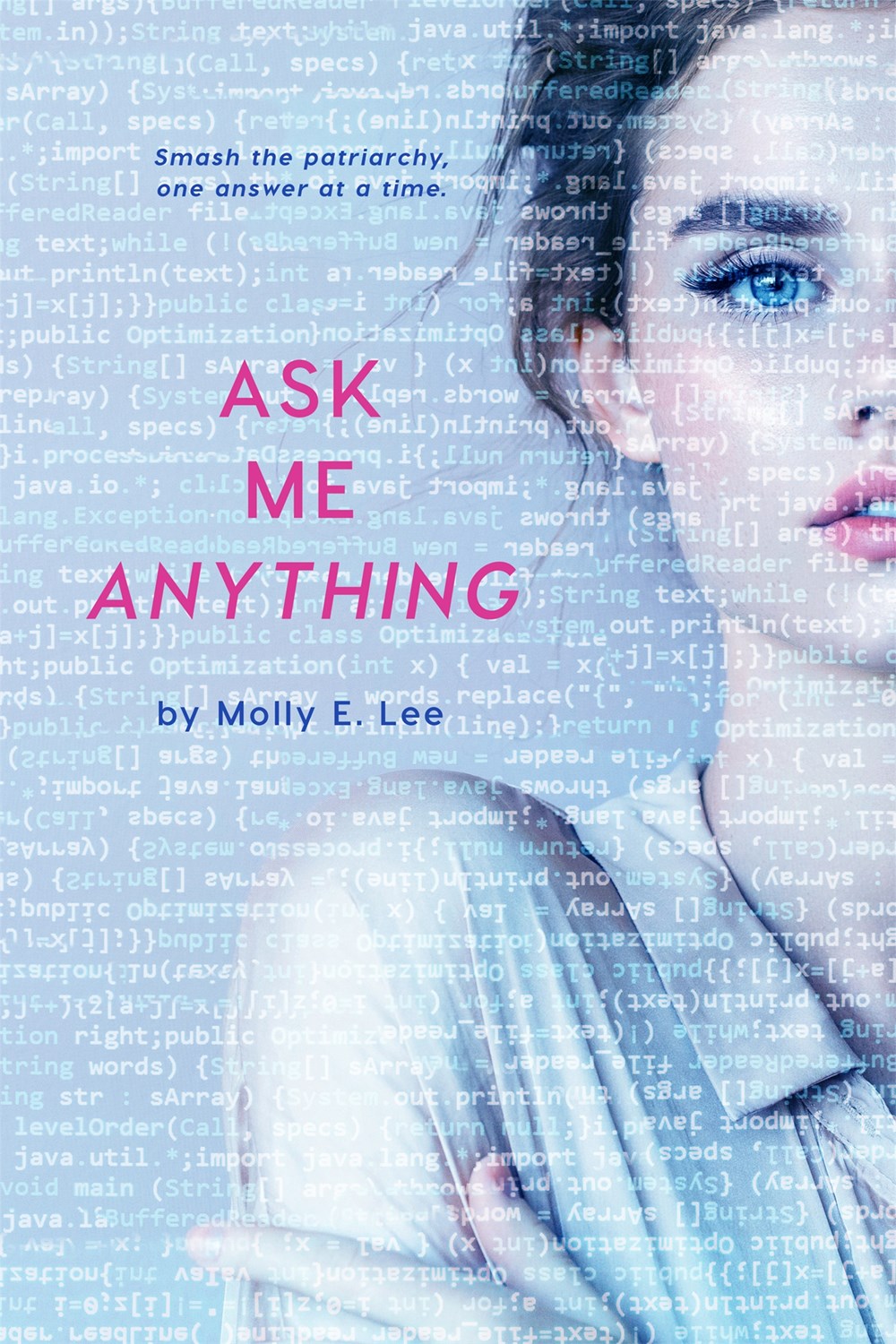 ASK ME ANYTHING by Molly E. Lee
9781640636583
Available now from Entangled: Teen
Ages 14 And Up
Wilmont Academy has been teaching the same archaic sex education for decades. Enter Amber Henderson! Using her coding and web design skills, Amber creates an anonymous blog providing free, honest, sex education and advice. She carefully selects and answers questions, not shying away from anything difficult or awkward. And for anything she doesn't know, she relies on her parents.
When the administration hears about the blog, they enlist the second-best hacker in the school (aka Amber's crush, Dean) to shut it down. And now Amber has to figure out how to keep her blog intact without losing Dean or her reputation in the process.
Stars on stars on stars on stars for your #FridayReads!
"The epic sweep and sly humor in the midst of enormous anguish will remind readers of Michael Chabon's work as they relish this heady exploration of grief, alchemy, and love."–Publishers Weekly, starred review
"Wolff's wild, hilarious, and moving adventure is rooted in reason and the tough truths of life: how easy it is to hurt the ones we love; that forgetting is easier than forgiving; and that life (with an elixir or not) is never long enough."–Booklist, starred review
"With empathy and kindness, Hawes bears witness to one of the most horrific incidents in recent American history."–Booklist, starred review
You can't go anywhere these days without running into some kind of political discussion, and these new and forthcoming books will keep your patrons in the know.
DEMOCRACY MAY NOT EXIST, BUT WE'LL MISS IT WHEN IT'S GONE by Astra Taylor
What is democracy really? What do we mean when we use the term? And can it ever truly exist? Astra Taylor, hailed as a "New Civil Rights Leader" (LA Times), provides surprising answers.
THE NEW RIGHT: A Journey to the Fringe of American Politics by Michael Malice
The definitive firsthand account of the movement that permanently broke the American political consensus. As entertaining as it is informative, THE NEW RIGHT is required reading for every American across the spectrum who would like to learn more about the past, present, and future of our divided political culture.
Scary first dates, international espionage, and spunky Southern mysteries galore in today's Thriller Thursday!
June 2019 Indie Next Pick + LibraryReads author of ALL IS NOT FORGOTTEN and EMMA IN THE NIGHT
"Skilfully manipulating tension and using breathless pacing, Walker keeps that question in the air until the final twist unmasks secrets about Laura's disappearance and the murder in her past."–Booklist
EXILE by James Swallow
Racing breathlessly from uncharted CIA prisons to the skyscrapers of Dubai, from stormbeaten oil rigs off the African coast to the ancient caverns beneath the city of Naples, Marc Dane returns in EXILE, the explosive thriller from James Swallow, the internationally bestselling author of NOMAD.
"A dark mystery, effectively framed by its well-drawn Mississippi Delta setting."–Booklist
---
NEW YORK, May 15, 2019–Henry Holt will publish Michael Wolff's new book SIEGE: Trump Under Fire on June 4, it was announced today. Wolff is the author of the number-one international bestseller FIRE AND FURY: Inside the Trump White House, widely considered the first book to reveal the inner workings of the most controversial presidency in American history. Stephen Rubin, Holt's Chairman, bought the book from Andrew Wylie of The Wylie Agency. John Sterling, the editor of FIRE AND FURY, will edit the new book. The book is embargoed until publication.
With FIRE AND FURY, Wolff defined the first phase of the Trump administration; now, in SIEGE, he has written an equally essential and explosive book about a presidency that is under fire from almost every side. A stunningly fresh narrative that begins just as Trump's second year as president is getting underway, and ends with the delivery of the Mueller report, SIEGE reveals an administration that is perpetually beleaguered by investigations and a president who is increasingly volatile, erratic, and exposed.
Michael Wolff is the author of FIRE AND FURY, the number-one bestseller that for the first time told the inside story of the Trump White House. He has received numerous awards for his work, including two National Magazine Awards. The author of seven previous books, he has been a regular columnist for Vanity Fair, New York, The Hollywood Reporter, British GQ, and other magazines and newspapers. He lives in Manhattan and has four children.
For this week's nonfiction round-up, we celebrate a family memoir and a nautical history!
"Lushly detailed and full of eco-devotion, this candid narrative has much to say about human beings bearing burdens, coping, and aiding one another."–Kirkus Reviews
"A dense but enlightening history of a highly significant 18th-century vessel…. History at its most exciting and revealing."–Kirkus Reviews, starred review
"With an acute eye, Moore limns the conflicting human impulses in the first episodes of this epoch-making drama. Maritime history that opens onto much more."–Booklist, starred review
The votes are counted and the list is out, and we're happy to announce that Sarah Gailey's MAGIC FOR LIARS is a June 2019 LibraryReads pick!
A June Indie Next Pick + 2 starred reviews!
"There's something for almost all readers here: family drama, romance, high-school gossip, fantasy-world building. Above all, Gailey shows us that humans are humans, even when they are magic, and they are still flawed, damaged, and oh so interesting."–Booklist, starred review
"Gailey's debut is an energetic modern fantasy that plays rough with relationships and personal beliefs, from youth to adulthood. Ivy's emotional investigation will strike a chord in anyone who has ever felt like they don't belong. Highly recommended for all collections."–Library Journal, starred review
A LibraryReads-winning rom-com + a speculative debut + an Indie Next Pick + a cinematic Reconstruction-era drama + a thriller/SF mash-up = a very merry #PubDay celebration!
PW Best Book of the Summer + May LibraryReads Pick + Three starred reviews + June Indie Next Pick!
"The much-loved royal romance genre gets a fun and refreshing update in McQuiston's debut…. A clever, romantic, sexy love story."–Kirkus Reviews, starred review
"Readers will be eager to see more from McQuiston after this extremely promising start."–Publishers Weekly, starred review
"In between sweet and steamy love scenes, RED, WHITE & ROYAL BLUE allows readers to imagine a world where coming out involves no self-loathing; where fan fiction and activist Twitter do actual good; and a diverse, liberal White House wins elections. This Blue Wave fantasy could be the feel-good book of the summer."–Booklist, starred review
"Packed with other striking images and clever details, like the three canyon-sized concrete barriers that separate the U.S. from Mexico (and still fail to curb migration), this wildly imaginative, highly addicting, and ultimately endearing speculative first novel offers borderlands storytelling with an sf twist."–Booklist
The American Booksellers Association's Summer/Fall 2019 Indies Introduce Adult Debut picks, honoring the top upcoming debuts (publishing between June and November 2019), include IN WEST MILLS!
IN WEST MILLS by De'Shawn Charles Winslow
PW Best Book of the Summer + Library Journal Editors' Pick & Best Debut + Two starred reviews!
"Winslow's heroine isn't easy to like. But over time, she reaches into your heart and touches it deeply. So does this book."–Kirkus Reviews, starred review
"Winslow has a finely tuned ear for the way the people of this small town talk, and his unpretentiously poetic prose goes down like a cool drink of water on a hot day."–Publishers Weekly, starred review